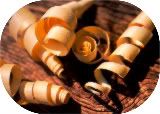 Iaondrin again sat with shavings on the floor around her, and a piece of wood in her hand that looked like she had simply been carving it into nothingness. The three-legged not-horse was on the table, one of its legs cut shorter. "I knew someone who tried to teach me to whittle," she said conversationally as Bryan entered. "In Clun. He could carve the most beautiful things. He has a wife who lives somewhere outside Darilei. That's how I ended up there, you know. Well, I guess you didn't know, but now you do."
She kept shaving strips of wood away, one by one. "He wasn't planning on coming back, you see, and he wanted me to return something to her, to let her know." She didn't look up, and the stream of words continued, as if she were afraid to let him speak. "She has another husband, though, so I guess she could spare one. I probably should've left Darilei after I gave the pendant to Evan, but I had the damned horse, you see, and it wasn't mine, and it needed to get back to where it belonged."
He took it all in at a glance and it couldn't be more obvious how she had felt all day. As her words tumbled out, he moved and knelt on the floor in front of her. "I'm sorry it took me so long," he apologized. "I couldn't exactly tell her why I was really there to get to the front of the line. So," he looked at all the shavings on the floor around her, "what did you do today?"
"I spent the day knitting." She concentrated on sliding the blade along the length of wood again. "You don't need to apologize. I didn't think you would be able to just walk in to see her."
"Hold on a sec. Shit. Fuck. Damn. Piss. Hell. Shit, I fuckin' needed that." He stretched out the muscles in his jaw and cheeks. "Now, where were we?"
One corner of her mouth curled, and she seemed to be on the verge of actually smiling before she managed to suppress it. "I think you missed a couple." She leaned back and set the blade on the table, the thin stretch of wood next to it, and flexed the fingers of both hands. "What did I do today? Well, I didn't leave."
"That's good because I would have looked really foolish in front of Ellinden So if that had happened." He stood easily, slid his pack off but left his weapons on. "Well, assuming I didn't totally screw up what was happening, she is going to make arrangements for us to get there safely and you can follow whatever procedures they have for when one of them is accused of something they didn't do." He reached into the pouch. "And she said that you might need these."
Iaondrin stood, surprised. "I might need them? I haven't warn them in years – I don't think I could even get them in now." She touched her earlobe. "Shit. Does this mean I need to get out my sewing needle?"
He cast his mind back over the conversation. "I offered a bribe so she would give me the Seat. She checked the bag of three gold and the earrings and said I should take back my riches because I might need them." He shrugged. "Maybe she just wanted you to have them back and I didn't understand, but then, why not just give them to you herself when we go back?"
Iaondrin chewed on her lower lip, thinking it over. "Because I will need them when I go back." She held out her hand for the earrings, waiting for him to drop them in her palm. "A'nari has always been a Politi Seat, and a Politi holding." She bounced the earrings in her hand. "It matters whether I use Shal in my name," she mused. "And it matters whether I appear as someone still Politi, or someone who has shunned it."
He placed the loops gently as she talked, then sat in the other chair. "Do you need help with the… ?" he motioned towards her ear when she paused.
"With stabbing myself?" She crossed to her pack and fished out her sewing kit and brought it back to the table to pull out the longest and sharpest needle. "I don't have a mirror. Unless you do, then I will need you to do it. You may be able to see where the old piercings have closed." She held the needle out to him.
"Lucky me," he said without enthusiasm. He took the needle and slid the chair the closer. "I'm certain this is gonna hurt you worse than it's gonna hurt me," he warned. "Especially since I don't know what I'm doing."
"Sure you do. Just think of it as a small knife, and my ear-lobe as that bard." Iaondrin said it matter-of-factly as she draped a cloth over her left shoulder, and waited while he held the tip of the needle in a candle-flame. "Or pretend you are your mother, darning a sock." She braced her right arm on the table and turned her head so he could pull the lobe out and find the faint scars that were still here. "Just make it fast."
She did not flinch when he place the tip of the needle against her skin, nor when he pushed it through. She just closed her eyes and drew a slow breath that she held as he pulled the needle free to do it again, but her right hand was clenched on the table-top. "Now where are the earrings?"
"I gave them to you," and thereupon followed a short scramble to find them so she could put them in. They puttered around the rest of the afternoon, with Vermillion giving a full account of what had happened. After having another dinner in the room, he opened the window again ostensibly for some fresh air, but he tugged his right ear softly and said, "I need to go see if a message came. I have no idea how long it will take to set up."
Iaondrin nodded, and reached for the whittling knife and the deformed "horse." "I may go down to the stables to check on Jaely while you are out."
---
The warm late spring air kept people moving around the winding streets of Malisis well after the dinner hour, and the need to wander a bit and make sure he wasn't followed by someone skulking in the crowds meant it was a leisurely stroll to the other inn. Once assured there was no one on his track from the Blue Unicorn, Vermillion could turn to see if a message awaited. He pushed through the crowded common room to the night's barkeeper, a gruff middle-aged woman who was a little hard of hearing. "Aye, what's that?" she asked, leaning closer and squinting as if that would help her hear any better. "Oh, aye, there's somethin' waiting for ya. Now where the bloody hell did that blasted girl put it?" She looked around the counters behind the bar, and turned to bellow at a maid. "Sheila!"
Sheila, fortunately, turned out to be easier to deal with, and quickly located the sealed letter.
He thanked the barmaid with small smile and went up to the room he had rented. His hands trembled slightly as he stared for a long moment at the paper, then he carefully opened it and read the contents.
Lord Jiado Shal Tallentire would be pleased to receive the young lady the next evening for lunch. If the lady enjoys the Lordship's company, he would ask her to remain to dine and for an evening's entertainment. His Lordship understands that the lady may be loathe to appear unaccompanied, as he understands his reputation precedes him, and earnestly advises that she may, of course, bring her faithful guard. His Lordship shall provide a private boat from Dock 63 at dusk tomorrow; this letter shall be her passage.
It was written in a flowing text, stamped with a seal and scented with lavender. It was designed to be a clear prelude to seduction, a plea from an enamored suitor to a reluctant lover.
---
Two blocks after leaving the inn, moving through the late night foot traffic, Vermillion caught glimpse of a man he had seen before, one of those sitting a table in the common room nursing a drink. Half-shal, dark hair, with a wine-stain on his collar, and a long-sword on his hip.
"Well, that didn't take long," he muttered to himself but couldn't stop the adventurous thrill that went through him. Finally, something he knew how to deal with. He briefly thought it would be interesting to lead them to Antazos's place, but he didn't want to walk the five miles with little cover and he didn't know for sure his tail didn't work for the Lord. Turning right at the next street, he headed for Malisis' counterpart to the Warrens.
The tail wasn't the worst Vermillion had seen – he followed, never too closely nor so obviously that most people would remark on it, but his ability to blend into the crowd was not a match for the Nightsong Guildsman's wary eye. He trailed Vermillion through the narrow winding streets toward the poorer seaside quarters.
Better than Varimer's flunkies, Vermillion smiled inwardly. He led the tail around a couple more corners, then after rounding a third, he took several quick steps and slid into the shadows down an alley, sliding his sword from its scabbard with a low leathery hiss. He waited, distantly wishing he had gotten Iaondrin one of the rings so he could tell her he would be late.
To his credit, the man never altered his speed, to dash ahead in hopes of catching a glimpse of his now missing target – that would have drawn too much attention. He continued walking, shouldering his way between people and looking around casually, right past the alleyway, not noticing Vermillion lurking in the darkness.
After a slow count of five, Vermillion sheathed his sword again. He stepped to the end of the alley and glanced out to find his mark, then slid into the flow of traffic a score or more paces back and began following his one-time tail.
The man continued for a few blocks, looking around to see if he could pick Vermillion up again. Vermillion could tell from the way he started to drift out of the slums at a slow pace, occasionally stopped, to talk to someone or check his cuff or boot, that the man also tried to see if someone were now following him. He was smart enough to realize that the disappearance of his quarry might mean the tail had been reversed, but he wasn't good enough to actually confirm it.
That's right, there's no one here, Vermillion thought. Time to go tell your boss you lost him in the slums. He shuffled along with the crowd, thinking this would be easier with Kaz helping. That was when he started looking over his shoulder as much as he was looking forward.
Vermillion's sudden paranoia saved him. The first man having lost the quarry had deliberately chosen a path that would lead across a better skilled ally, a Shal who had picked up Vermillion and fallen in ten feet, and two pedestrians, behind him. Still, he wasn't better enough to avoid the reflexive ducking of his head when Vermillion unexpectedly looked over his shoulder. The movement stood out, and he knew it as his eyes met Vermillion's.
FUCK! roared through Vermillion's mind. It was hard to tell if he was more pissed off because he should have known better or because someone was already fucking with him. Two on one and one of them knows exactly where he is – not good. Time to even things up a little, maybe he could get something out of this. He turned down the next alley he passed, moving several paces then spun around and drew his sword, waiting and ready.
He saw the second man slow at the mouth of the alley and then stop. If he hadn't known Vermillion had spotted him, he might have waited, or simply kept going, but the jig, as it were, was up. The other man's figure was outlined against the street-lights behind him, but the inside of the alley was dark. With Shal eyes, though, the low-light would be enough to at least see the outlines of shapes in the alley.
"You've got on chance to walk away," Vermillion said flatly. While he spoke, he was reaching into his haversack for a pouch of his Disappearing Dust. "After that, I make an example of you for the next fucker that thinks about following me."
The man spread his arms, showing that his hands were empty. "Fair enough," he called back. "I have no desire to draw the attention of the Guard." He stepped back, keeping his hands up, and back around the corner.
As soon as he was alone, Vermillion shook the Dust over himself. He hustled down the alley further either figuring to come out the other end, or looking for a likely spot to climb and move over the roofs.
Vermillion slipped out the other end as he heard two sets of fast footsteps from where he had entered. As the two men searched the alley, he was away, moving quickly to leave them behind. By the time the dust wore off, he had turned three or four corners and shaken them completely. till he took several more corners and made a few circles to make sure no one else was following him, eventually working his way back tot he Blue Unicorn. He climbed a nearby building where he figured Kaz would be watching the room, then moved to him when the other gave a short wave from his hiding spot. "Figger out who she is yet?"
Kaz blinked and looked at Vermillion for a long time before speaking. "When I saw you were with the redhead from Darilei, I wondered what the fuck you were up to. So, what the fuck are you up to?"
Vermillion looked at the shutters of the window as if he could see through them, seeing her whittling. "She's had the League and Hugh Vernon and something unnamed chasing her all over the place. I'm trying to help her stop it."
Kaz glanced at the window, and then scanned through the streets and the other rooftops, still working. "And now you got that after you, with just me to watch your fuckin' back." He shook his head. "This ain't just Traeger bein' a prick."
"That's most of it, Kaz. She's… Even with all that going on, she went out of her way to help some people facing some very awful shit. You hearda Hinderlet? I found her in Palderton doin' the same thing. She deserves better'n to have all those people houndin' her." He was silent for a moment, then the corner of his mouth turned up, "Doesn't hurt that she's pretty."
Kaz chuckled at that. "Aye, pretty. She any more charmin' close up, or does the scowl go all the way down?"
"I've almost gotten her to smile two or three times now," he answered. "Somebody already tried to tail me. Two o' them, workin' as a team. One visit to the island," Vermillion shook his head.
"After you or after her? I ain't seen nothin' around here. She went down to check the horse, came back up quick."
"Pretty sure it was me. We get on a private boat at dock 63 tomorrow at dusk and go out to the island. We're stuck there until she proves her innocence. Then the real trouble starts."
Vermillion could tell Kaz didn't like idea of a private boat. "How am I goin' to watch your back?"
"If I need it on the boat, it's already too late. We'll either be in Councillor So's rooms or someone named Tallentire's rooms. Wherever we are, they'll be alert for trouble, so be careful."
"Fuck. Too far for me to swim after you." He sat back on his , still thinking. "You know anything about the boat you'll be on? Nah, you wouldn't. If I can't find a way on it, I'll get the first thing I can to come over, and try to figure it out from there."
"There's always the regular ferry," Vermillion suggested. "I gotta go. I've been gone longer than I thought I would be. We should be fine the rest of the night. Get some sleep." He squeezed Kaz's shoulder in silent thanks, then went down and back to the room.
---
Iaondrin had used up all the wood, and gathered the shavings into a neat pile. Even the lump of alleged horse had been carved away. The whittling knife lay next to a whetstone, resharpened for future use. She sat curled at one end of the couch, and had obviously been half-dozing.
"Hey," he said in greeting. He slipped off his weapons and armor. "Two items of note. One, we go to the island tomorrow at dusk. Two, I already had to lose a tail."
She sat up and rubbed the sleep out of her eyes. "Do you know who was behind it?"
"No, there were two and I didn't think it wise to press my luck at this point. They were a better class of sneak than I am used to being tailed by. I guess Councillors can afford better."
"You think she sent them?" She didn't sound surprised at the idea. "Or someone else on the Council?"
"I don't know. I figured anything having to do with the island must have a Councillor behind it somehwere." He raised his hands and rubbed at his eyes. "Or… Shit, I hope Antazos doesn't know I'm here already." Vermillion was kind of hoping to surprise the bastard.
"If you want, I can try to find a way to shake his hand." She yawned. "Can't guarantee it will work though."
"Alright, time for you to get some sleep. That almost sounded like a you were joking." He pondered for less than a second, then offered his hand to help her off the sofa.
Her hesitation was only momentary before she placed her hand in his and let him pull her to her feet. She stood for a moment, close, hand still resting in his, but not meeting his eyes. "What did the message say?"
"That my Lady is welcome to have dinner and possibly more at someone named Tallentire's apartments and she is able to bring her guard," he answered softly, watching her, wondering. "There'll be a private boat at dusk." He paused, then added, "I'm not leaving your side while we are there."
"So if I decide to put out for this Tallentire, you'll be there?" He could see that she regretted the jest as soon as she said it.
"Yes, so you should make sure you put on a good show," he said soothingly, in order for her to know she had not hurt him, if that was her worry. Standing there, close to her, he hardly dared to breathe, wanting the moment to last.
She nodded. "It's the least I could do." She leaned her forehead against his shoulder, just for a moment, and listened to the threads. "I don't know how to play their games. I never learned."
He delayed a moment, unsure, then moved his free hand to rest on her hip. He knew he would hold her for hours if she let him. "You're looking at it wrong, my Lady," he murmured, his tone holding no formality, only adoration and devotion. "They don't know how to play your game."
"My game involves knives and arrows. And the occasional blast of fire. Well, mostly it involves running." Common sense told her she should step back. But if common sense had been her guide, she would have ridden past Hinderlet.
He rested his cheek against her head. "Blades and fire," he whispered against her hair, sliding his cheek against it. "Who thinks to cross you should fear blades and fire."
She began to tremble, folding in on herself, torn between fear and need, and hating how easily she had been broken. She couldn't afford weakness – she wouldn't survive the next days otherwise.
"Shhh," he soothed, slipping his arm around around her back, moving to her and still holding her hand gently. "I can be your strength until you find yours again," he whispered.
Iaondrin huddled against him, shaking, drawing deep breaths to try to find a calm center. "Better to get it out now," she said through gritted teeth, her other hand clenching his shirt.
"Probably better than collapsing in a heap when they ask you your name," he smiled slightly against her hair.
She nodded and waited for the trembling to stop, until she could stand on her own again. She unfolded her fingers from his shirt. "I want you to stay with me," she whispered. "Just to sleep." She didn't say she knew she would not sleep easily. This was a night she would dream, remembering the darkest fear, and thinking she had slept too long and too often, among the dead.
"As my Lady wishes," he answered gently. He slid out of his boots and let her lead him by their clasped hands to the bed, their weapons left on the floor. She curled up on the bed and he slid in behind her, cradling her against him protectively. "Sleep, my Lady. I will keep you safe," he whispered. She waited to doze again, an uneasy sleep in which she heard scraping of talon over oak. Bryan laid awake, keeping her safe.
To be continued.
---
DM's Note: Detail of this photo used under a Creative Commons license.