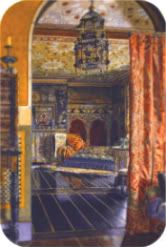 This leg of the trip was no easier on Iaondrin. Even in relatively calm seas for spring, she could keep nothing down. In the hold, however, Jaely didn't miss a meal.
Another light rain in Malisis gave her the excuse to pull a cloak over her hair and make herself unremarkable. Her face was pale under the hood. When Jaely trotted down, head held high and tail swishing, Iaondrin didn't have the energy to curse.
"Worthless nag?" Vermillion supplied helpfully but quietly. He led them to the Blue Unicorn Inn, secured one of the larger rooms for them and asked for dinner to be sent up with a bottle of Vanek Red when it was ready. "Lay down and relax until the sea-sickness passes."
She stripped off her armor and sat bent over. "I know it's supposed to get easier. But I don't want to spend the time to get there." By the time dinner arrived, she was able to take a seat, but started the meal by picking at the food.
"This question may bother you, but I may need to cover for it, and I would like to know why," he started carefully. "Why don't you let people touch you?"
She tore at a piece of bread and pushed a carrot around on her plate. "I leave a trail." Iaondrin leaned back and crossed her arms, defensive. "Like a scent. Nearly everyone does as you move through the threads. But the… what comes out knows how to follow it."
He realized she was talking about the Keep. "I carried you to the Church in Obber's Mill," he said unconcernedly.
"Yes, you did. And Brother Landry cleaned my wound… but the trail away from him will be stronger. And the protection of his own god will shield him." She reached for her silverware, and then dropped her hands. "Nothing may come. Or it may take a long time. But it has happened." Derek died, she thought, but didn't say aloud. And there were others.
"Well, since I'm already in it, don't be afraid of… uh, contacting me. You know, leaning on me, pushing me out of the way of a runaway carriage," he said it lightly, but he wanted it to cover anything she might need.
Iaondrin looked at him steadily, half-frowning. "I can have Jaely do it. It's possible she won't even trample you." The jest was easier than trying to address the subtext. "Why do you think you will need to cover for it?"
"I don't know. People may want to shake hands. There may be checking for weapons. And I'm nervous about what happens once everyone knows who you are, so I'm looking for information."
"Oh." She took a sip of her wine. "Is there anything else you think you need to know?"
"A back way in and out of the Aihv'. Correct forms of address for Councillors – Lords and Ladies? Excellencies? Graces? How I can hint to Lady So without right out saying you are here." Even as he listed those, he knew there was so much more and no real way to find out. Who are all the Councillors? What would they be thinking? How would they react? How many were there?
"I don't think there's a back way in or out. At least, no one ever told me about it." She ate a few more bites and then pushed the plate away. Her lack of appetite might have been attributable as much to nervousness than lingering sea-sickness. "Though everyone believes the Lady of Sutton's Evandin snuck in somehow to kill her father's murderer, and out again without being seen.
"Formal address depends on the individual. If it is one of the old Shal sects, it's almost always Lord or Lady. Except for those who represent others, like Antazos does. Your Excellency will do. If it is a League Seat then Councillor. And on the last…," she spread her hands and shrugged. "I'm not sure-," and then she stopped, obviously remembering something. "Wait."
She stood and went to her packs, pulling things out until she found a leather pouch. She crouched, looking at the contents, face unreadable and then straightened to walk back to drop something on the table-top – two silver loops, earrings, one fastened through the other. "She's Politi. She will be able to read who wore them."
Vermillion looked from the earrings to Iaondrin, eyes flicking to her ear. "That was one of the things I was eventually going to ask you." He took them gently and slid them into a pouch. "How are you feeling?"
"I don't think I'm going to throw up. From sea-sickness." She took her seat again. She touched her left ear absent-mindedly with one hand, and then realized what she was doing. She had not worn the loops in years, did not even think about them very often – and when she did, the thought was often of throwing them away. But seeing them lay on the table-top, and then disappear into his pouch, had been harder than she had thought it would be.
"I'm going to admit to you now that talking to these people is not my area of expertise." He held up a hand. "No, I know. It's shocking, but true."
Iaondrin rolled her eyes. "Now you tell me that you lack in charm and grace. Perhaps I should have asked that Broc to help instead. He is a real diplomat."
"He is very polite when he cuts someone in half or threatens to carve his name in their face. Always remembers his 'please' and 'thank you'." He stood and went to the window, opening it for a few moments to let in some air. He stood breathing it in for a moment, hoping it was enough time for Kaz to see which room they were in. He turned and said in as cultured a voice as he could muster, " 'And now, it would please me to cut off your head. Thank you for the opportunity to do so.' " Vermillion chuckled, thinking of Broc nearly foaming at the mouth in fights.
She chuckled. "A polite berserking killer is always a much more pleasant way to die than one who doesn't know proper etiquette. So do you have a plan for what happens next?"
"First, we get some sleep – or try to – then I go ask Lady So for her support in claiming the empty Seat." He figured using the same ploy he had when talking to Ginko was as good a way as any to talk about the A'nari's without talking about the A'naris. "With any luck, she won't toss me out on my ass before I can drop a few hints."
Iaondrin nodded, but had no better suggestion. "And I wait here?" She tried to ask the question in a way that wouldn't make it sound like she was looking for the opportunity to bolt.
"Milady had a very difficult time sailing and is still recovering," he answered. "You shouldn't risk the island until we believe we've found someone who won't drop us in a hole."
"Okay then. Let's see if we can get some sleep." Iaondrin pushed the chair back and stood. Halfway across the room, though, she stopped and added quietly, without looking at him, "It's not too late to back out." She might have been saying it to herself.
"Do you want to go back to running?" he countered softly. "Letting the League control your life with pettiness and false accusations? Or Hugh Vernon kick you around because of his greed? Or even the fuckin' thing in the Keep and its hunger not letting you accept the simplest of kindnesses from other people?" His voice had gotten more heated as he spoke, though no louder. He took a long breath before continuing. "I told you I believe you deserved better, and I still believe it, but I'm not here to force you into anything. I'm here as long as you want to do this."
"Find a place to stand, or they will run you to ground." She waited a moment, and then looked up. "That's what Morgan said." For a moment, she could almost feel the weight of him as a child in her arms. "Okay. I'll be here when you get back." And then she went to bed.
He set out his bedroll across the room from the bed, blew out the candles, and settled himself in before adding, "Besides, if you keep running, you'll never find someplace really horrible to keep Jaely."
---
In the morning, he asked for a simple breakfast in the room, explaining about the lady's delicate constitution from the ship travel and that she should be left to recuperate for the day. He picked at the biscuits and fruit on the plate, eating little and saying less until he decided he couldn't put it off any longer. Leaning forward in his chair, he reached one hand across the table to her, palm up. He saw a moment of surprise before the frown started and he said simply, "Trust me."
Iaondrin looked at his hand, and how the threads flowed across the table-top, the patterns of them on his skin. The patterns would shift if she touched him, moving in reaction to the contact, and it would again lay a mark that had faded over the weeks since Obber's Mill.
She set aside her knife and lay her right hand across his, and watched the threads jump in reaction, twining around them both.
His fingers curled slightly and he held her hand gently for several moments, then let it free. He took heart from the simple gesture and stood, shrugging into his equipment. "I'll be back as soon as I can."
Outside the front of the inn, he tugged his right ear, letting Kaz know to stay with Iaondrin for now. The sign was simple, chosen because Iaondrin was right handed. The other ear was for left handed Vermillion to be shadowed. He made his way to the docks and boarded the first ferry to the island.
The wide, flat boat was crowded with people from a wide spectrum of classes and races, with a separate section cordoned off for the especially well-dressed, and another for those with produce or animals. The passage across the channel took three-quarters of an hour, even on a bright spring morning with flat, calm waters.
Vermillion had signed a book at the Malisis docks, and signed another upon disembarking on the Aihv'. The stone fortress carved from the rock of the island loomed ahead, surrounded by a sprawling town, and the line to enter the fortress was already forming. He had been here before, with Duran, to watch Council proceedings, and knew there was nothing for it but to follow the bureaucracy. Eventually, he reached the front of one line, and an armed guardsman/clerk looked up. "Your business here?" he asked brusquely. The answer would determine what pass would be given, where he would be permitted to go unescorted or escorted or not at all, whether he would be required to surrender weapons and magical items whose design and purpose could not be easily ascertained.
"I'd like to discuss some business with Lady So," he answered. "So I guess I need to go to her offices and make an appointment, yes?"
The request did not seem to surprise the guard – after all, the Council members had visits from constituents, petitioners, business partners, and various and sundry folk all the time. "The Lady of Sutton's clerk has an office in the Appointments Hall." He handed over a sheet of parchment with a map of the public areas on the ground floor, and a wooden chit painted blue that would allow Vermillion to move in those areas without interference. "You won't need a pass to get there. Her clerk will take care of you from that point." He was already looking past Vermillion for the next person before he even finished the words.
Once past the entrance, the crowd thinned out as people headed in different directions, on whatever their individual business was. The Appointments Hall turned out to have a series of small offices around the rim of a curve, each one with a small sign outside identifying the Council member it served. There was only one person sitting with the Lady of Sutton's clerk, and Vermillion had to wait only a few minutes before he could speak to the dark-haired Shal woman. "How can I help you?" she asked. Her manner was reserved, but friendly, and her look expectant.
"I'd like to make an appointment to talk with Lady So, please." He was moderately pleased with himself for not swearing when he said it.
The clerk looked down at her book, a wide ledger with notes in a neat, precise hand. "There is a waiting list for today for general visitors. It is quite long, but I can add your name." Her look was apologetic. "I must warn you though, that if others before you take too much time, you may have to try again tomorrow." The way she used the term 'general visitors' told him that there was at least one other category of visitor – if not more – who might receive priority.
"Well, what if this wasn't a general visit?" he asked. "My name is Vermillion, I'm with the Nightsong Guild in Tarrish. We help people with security. Not, like personal," he knew the Evandin would take care of that, "but for places, keeping them safe. And we retrieve items that are lost, even if they are lost for a long time."
"I see." Her face showed polite interest. Her manner indicated that even if she thought him to be nothing other than someone trying to sell something the Lady did not need, she would treat him with respect. "If you have a business proposal you would like to submit, I would be happy to deliver it to the Lady. However, I am not aware that the Lady requires the particular services you offer right now, but I can also put you in touch with the members of her staff who handle such things." She kept her pen poised over the waiting list for a general audience.
He sighed, not believing it would have worked anyway. "'Fraid I need to talk to the Councillor, so just add my name. Vermillion, like the color." He didn't relish the idea of waiting all day for nothing. He looked around for a place to sit and wait, but looked back as a thought struck him "That proposal thing, did you say you would give it to the Lady to read? Like today?"
Her smile was wide and genuine, before she remembered to put back on the polite, business-like air. "Yes, Master Vermillion. Milady does not like to allow her paperwork to pile-up unattended. It is always promptly relayed to her."
"Do you have paper and ink?" he asked politely. What to write, what to write After several moments' thought, he shrugged and took a gamble:
Lady So,
I am Vermillion of the Nightsong Guild in Tarrish and I would like your support for the vacant Seat on the Council.
He looked at it, shrugged again, folded it and sealed it, writing "Councillor So" on the outside. It would either pique her curiosity or make her think he was someone whose melon had gone soft. "Where can I wait?"
"The Lady has antechambers." The clerk picked up a small bell and rang it, and within moments a guard appeared. She then passed over a red wooden chit stamped with the seal of Sutton to indicate that he could have access to the waiting area for visitors and petitioners.
The guard led Vermillion through halls and up stairs, and through more halls – much like the Libraries in Halveet, the Aihv' seemed to go on forever. The deeper they went, the fewer the people they saw, and the tighter the security. Finally, they reached a wide windowless chamber scattered with chairs and tables and couches. "If the Lady sees you," the guard told him, "you will have to leave all weapons and all but defensive magical items with her attendants. I will deliver your message now." He indicated that Vermillion should take a seat and disappeared through another door that had its own armed guards in front of it, these wearing the colors of Sutton; he must have departed through an unseen exit, because he never came back.
About a dozen people were there before him, some sitting along, others chatting in pairs or trios, Shal and human, and half-Shal and Dwerg and Weinig, finely dressed and commoners, all left to mingle in the same area. Tea was available, and biscuits and fresh fruit. One by one people were summoned through the guarded door, never to be seen again, and others came in behind Vermillion, added to the waiting list. It seemed that the pace of people being admitted increased, the numbers thinning more quickly. Still, two hours passed, and then a third, and finally one of the guards gestured to Vermillion to approach and step through. Immediately beyond the entrance was a much smaller chamber, where he was told to remove all weapons and anything else that might be used for an attack.
Down another hall, and through another door where a human girl of about fifteen greeted him. She curtsied, and introduced herself as Daciat, and took him to wide double doors – again guarded – preceded him into the receiving chamber. It, like many of the rooms in the Aihv', was circular shaped with a dome overhead, carved from the bedrock of the island. Tapestries hung on the walls and rich carpets covered the floors. High-backed carved wooden chairs were set near one curve of the wall around a low table.
In one – the most orange – sat the Lady the Sutton, dressed in embroidered grey silk. Her black hair lay across one shoulder, the mage-lights in the room picking out the silver shot throughout it. There was silver at her left ear – three loops – and a silver circlet on her brow, and finally the fine silver chain around her neck that matched the one worn by the man who stood, unmoving like the stone, against the wall behind her. Daciat curtied again, sinking almost to her heels, and bowed her head. "My Lady, I present to you Vermillion of the Nightsong Guild of Tarrish." She held the bow for a long time before rising again and leaving the room.
Dark blue eyes considered him, and she motioned him forward to speak. The note he had sent was open on the table before her.
Three hours he had spent thinking about exactly what he wanted to say and it all flew right out of his head standing in that room. "Ah, yes," he stammered, then cleared his throat. "As the letter says, I'd like to talk to you about the, ahem, Seat that isn't being, uhh, used at the moment." He forced himself to stop, knowing he sounding like he was soft in the melon, and take a deep breath. "I've heard that you don't favor any of the contenders and was wondering if the right person for the job would gain your support." Too vague? he wondered. Or too far off the mark?
She leaned back in her chair and folded her hands in her lap, but did not yet ask him to sit. Behind her, her Evandin looked slightly to Vermillion's right, his unfocused gaze allowing him to watch the entire room. "The matter of the A'nari Seat has been an issue of long debate," she finally said. "My position should not be characterized as one of disfavor to any of those who stand at the forefront of the claims. Any of the three could serve as well as any of my colleagues on the Council." She said it so smoothly, and so evenly, that not even the most suspicious could imagine it was a back-handed compliment. "Do you, Vermillion of the Nightsong Guild of Tarrish, wish to speak on someone else's behalf?"
The question was more direct than he would have wished, too close to the mark, and he didn't know who else might be listening. His mind worked furiously for a moment to turn it somehow. "I am afraid, my Lady, I can only speak on behalf of the right person for the job," he placed the fingers of one hand against his chest, perhaps indicating himself as the right person for the job, perhaps just gesturing to himself. He hoped he wasn't sounding so airy she gave up trying to figure him out.
She kept her eyes on him and did not speak again for a very long time. "At times the Council moves too quickly in making weighty decisions," she said slowly. "I favor deliberation, careful consideration, before we choose to undo a holding as ancient as the A'nari. It is not something that should be done quickly, or done lightly, without all having the opportunity to speak."
This was something close to where he had wanted to go with the conversation. She was wondering, probably suspected what he was fumbling at. "Well, while you are considering me, there is something you should know. The Nightsong Guild, except for a little luck, some of us might be filchers." He looked around the room at doors and windows, then behind him as if he were looking for someone to be sneaking up on him. "My Lady, it seems I have been falsely accused of something that could put me in a very … uncomfortable place if I don't get a chance to tell my story. If I were to be found suitable for the Seat, would you be able to make sure I had a chance to explain before I was dropped in a hole? Because if not, I will just leave and you will never have to deal with me again."
For just a moment, the Evandin's gaze focused directly on Vermillion, and then it moved away again. Ellinden So's, however, never moved. "It is indeed unfortunate to be so defamed, if one is in fact guiltless of the crime of which one is accused. There are procedures to be followed, to safe-guard one who finds one's self in such a position. As you may have heard, I believe very strongly in following protocol."
"Lady So, that is good news for a weary heart. However, it is also a wary heart. I would like to think about what has been said here and maybe set another meeting. Perhaps if you have a favorite eating hall in Malisis?"
The Evandin did not move, but there seemed to be the slightest shift in his posture, and she briefly held up one hand without looking at him. "I am afraid that it is such a tedious affair to travel to Malisis, with all the people who must be notified and all the attendants who must … well, attend. It is quite a production." Her tone was one of mild exasperation, but her gaze was steady on him. It was a warning – she could not move unnoticed and unwatched.
And the way the Evandin again focused on Vermillion spoke a different warning, to one who might think to bait a trap.
Vermillion's face showed his chagrin. "I should have realized that," he murmured, turning his head to look at a spot on the floor a few feet away while he thought. Planning in this cursed doublespeak was going to be bloody painful. He scratched at his forehead. First make sure we are clear about what we are talking about. "My Lady," he produced a small pouch from his waist slowly and carefully leaned towards the table, hands out, "I have heard it is customary to give a gift to one who would support a bid for a Seat." He dropped the pouch and the sound of maybe three coins jingled as it hit the table. After he straightened, he added, "There's more in there than you think." He just hoped she didn't dump the earrings out where anyone could see them.
At that, the Evandin – Manton – stepped forward, sliding between the chairs. Ellinden So's eyes stayed fixed on Vermillion as her Oath-bound lifted the pouch in one hand, held away from her, and considered it without opening it. Then, he handed it over to her, and she took it without looking away from Vermillion. She untied the loop about the neck of the pouch and shook it to make it gape open. A glance only inside, and two be-ringed fingers to touch what it held. Her expression did not change, as she tied it up again and handed it back to Manton. "A gift is not required, but the gesture is appreciated. You should take it back – you may find yourself in need of your riches."
"Thank you, my Lady. You are most gracious." She needs her earrings, he realized. "Also, my Lady, as I said, my heart is very wary. I will need safe passage back if we are to discuss this again." He looked down at his belt, devoid of sword and daggers, then back to the Lady of Sutton, all trace of bantering gone. "I need to be able to put up a defense if anything happens."
"Arrangements will be made. A claimant to a Seat has the right to be guarded, and for the guard to be armed. Given your concerns, it might be best that a private boat ferry you across … if you should decide to return."
"My Lady, now that I have made my case, things seem to be going as well as I had hoped. I will place myself in your care whenever and wherever you decide best. I will look for your message at the Four Oaks Inn." As soon as I go there and rent a room as a cover, he added silently.
She simply nodded, dismissing him, and with no visible or audible signal the girl was back to lead him down a different hallway, where his things were waiting to be claimed, and another guard was waiting to lead him back to the public areas.
Vermillion grabbed the next ferry back to the mainland and made his way to the Four Oaks to rent a basic room, keeping an eye over his shoulder the whole way. After that, he wandered the streets for another half an hour, making sure he wasn't being followed before heading back to the Blue Unicorn.
To be continued.
---
DM's Note: Illustration is from Anna Alma-Tadema's "The Drawing Room, Townshend House," 10th September 1885.