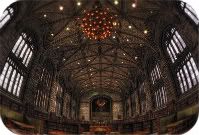 There was spring rain for a few hours on part of the trip, but little wind to disturb the passage. Iaondrin was seasick for much of the trip, and stayed married to a bucket or the side of the ship for most of the way. Jaely, on the other hand, came down the gangplank with her head up and completely undisturbed by the trip, and nudged Bryan for a snack almost immediately. "Bitch," Iaondrin muttered unhappily. Jaely whickered, and nosed for a sugar-cube.
After they disembarked at Halveet and she had drunk a potion to alter her appearance, he led her to the library and asked to meet with the two Scholars.
The clerk at the main desk in the lobby looked at him gape-mouthed for a moment, and stood so quickly she knocked some papers off her desk. "Vermillion of the Nightsong Guild? Oh, certainly, please, please, come this way." She frantically waved someone over, and whispered that they should fetch Rasmun Galbrunson immediately. "Scholar McCluskey will want to see you right away. Please, this way."
Iaondrin raised one eyebrow at him as the clerk led the way. "It's like being in the presence of a celebrity."
"We kind of caused a scene when we were here. We showed what that map," he gestured to the floor, "and that dome," he gestured up, "were actually meant to do. That's how I know about Owen's horn and the Kjell." He followed through the aisles and stacks, amused at the way the clerk kept racing ahead and turning back.
McCluskey looked up with surprise when the clerk burst in. The rooms under her aegis actually had a few people in them, looking at texts and asking questions, all of them dressed like adventurers or treasure seekers. It was obvious that a renewed interest in Leith Thellin and the tales of the Stamm had developed after the secret of the maps were unlocked. When McCluskey saw Vermillion, however, she shooed everyone away, shushing any protests, and waved Vermillion to an arm chair in her central room. Rasmun Galbrunson rushed in soon after, and both started peppering him with questions.
Iaondrin sat, silent, glad to be ignored.
"Hold on, hold on. Let me tell it, then you can ask," Vermillion requested. He glossed over the trip up the river and through Quaj territory and started going into detail with the meeting with Davur's people. He told of the Wise Man's declaration that if they brought back the Beenocken, it was theirs by right. He described the trip, the cold, the attacks and the meeting with the dragon. "Yes, a dragon. I don't recommend visiting him. He just wants to be left alone, and his teeth and claws will insure he does." He described the Beenocken as best he could, and pointed them at Kardinal Youngman. Then he told them of Broc's quest for the Fang of the Winter Wolf and the trip to the wyrd, but not what questions were asked.
"Wait," Galbrunson broke in, "there was a trail for the great northern elk, and a polar bear? And he chose the polar bear?" When Vermillion looked at him in confusion, Rasmun grinned. "The Regis Raul would have taken either as a proper offering, you know. But that's a true warrior's heart, to go for the bear, and a tale worthy of Hegart."
Iaondrin sat in her chair, legs stretched out and arms folded across her chest, just listening. It was a more complete telling than she had heard from him, and it was obvious he enjoyed talking to both of them. The two had an easy camaraderie, even though the woman seemed very favorably inclined towards the Stamm and Galbrunson – like any North Redding man – favored killing them all.
They had both already been in contact with 'Kardinal Youngman,' whoever he happened to be, and the correspondence had been fruitful for all. "He may even come to visit the Libraries," McCluskey told Vermillion. "Perhaps even an official visit, if we can maneuver the politics of it, having a Kardinal of Hamal come to the League."
"And unofficial if we can't," Galbrunson added. "Another one, some Rovati, is interested in finding out more about the map – I gather his people are into collecting artifacts."
"Youngman I have met. He asks questions a lot like you two do. The tale is the treasure, yes?" he smiled at McCluskey. "Now, I'm afraid I have some bad news. One of my questions to the wyrd was about where the books are, or were I guess. The History and the Atlas I haven't been near yet, but I will be soon. I'll try to get them. But the Dreamsong of Death's Wish… that is not a book of poetry. You may have heard of a village called Hinderlet outside Tarrish. Soon you will hear of the town of Palderton. The Dreamsong destroyed them."
Iaondrin looked down, while McCluskey and Galbrunson stared at each other in surprise and dismay. "The Libraries have things like that, dangerous things," the woman said weakly. "But all under guard. No one suspected what it was."
Galbrunson waved her off, and leaned forward with an intent expression on his face. "And where is this vile thing?"
"Athron... uh Pater Dolmen – with the map? – took it hoping we could find a way to destroy it. Anything you can send to Youngman about it would be helpful, I think."
Galbrunson relaxed somewhat, but still was obviously concerned about the possibility of such a thing being misused. "We will have to follow up with Kardinal Youngman, to learn what the Temple will do with it."
McCluskey patted his arm, and turned back to Vermillion. "A lot of people are going to want to speak with you, interview you, get the most minute detail of the story. Adventurers have been going out, you see, in search of everything on the map. Well, some of them we already knew about, they're right here in the Libraries, or Sutton or other places. But a lot are lost, and people are looking for them. It's a major initiative now, to find out everything we can and to gather the tales." For the first time, she focused on Vermillion's silent companion, taking in the dark hair and pocked skin, and seemed almost surprised to find someone else sitting with them.
"Don't mind me," Iaondrin said. "I can wait for as long as you need him."
"Oh no." He held up his hands to ward them off. "No, no, no. I am not the guy for that. Dolmen or the Jotunn, Boeden, would be much better. They're in Torei now, as far as I know. No, I – I told you all I can remember, and I am in the middle of another job." He shook his head, almost more afraid of the idea of telling the story a dozen more times as he was of the dragon.
Iaondrin narrowed her eyes at him. Clearly he was not going to cooperate with any efforts to slow their approach to Malisis. "You should ask him for more detail about the polar bear," she suggested. "I hear its paws where this big." She held her hands apart, indicating an enormous print. "Oh, and the … er, what was it?" She looked at Vermillion. "The worm that exploded? That's my favorite part of the whole story."
Vermillion shot her a withering look, possibly the first he had ever shot anyone in his life, so it may not have been very good. "No, I think a couple of hours is enough of the Scholars' time to have taken up. I've given them all I can remember, and we have another stop to make in the city before getting back on a ship." There was a tiny part of him that was glad she was going to get seasick again for the attempt at getting him stuck in the library. "For a more complete picture of things, it would be better if you talked with all of us anyway," he said with genuine concern for the Scholars getting everything they could.
McCluskey and Galbrunson were both visibly disappointed, but reluctantly agreed to release Vermillion. As he stepped out, they bent their greying heads together to compare notes.
"What kind of person are you?" Iaondrin muttered. "Can you imagine all the ink-stained librarians who are going to be disappointed about not getting to talk to you? Why do we have to be in such a hurry to get on another ship? You'll richly deserve it if I end up puking on your shoes."
"I'm a horrible person," he agreed easily. "I kick puppies, too." He waited for her to collect Jaely, then started out across the city, turning down the main street for shops. He couldn't stop himself from scanning the crowds for anyone watching the shop – he had done it practically every time he approached and it was second nature. After she tied Jaely to the post out front, he led Iaondrin inside. "I'm Vermillion from the Nightsong Guild. Is Master Laibrook around?"
The stout middle-aged woman at the front desk smiled at Vermillion, recognizing the name, but looked askance at Iaondrin's rather rough-looking facade. The armed guard standing behind did not react at all. "He is in his office in the rear." She told them that the guard would show them back.
"Master Laibrook," Vermillion greeted. "First, although it's been a long time, I am finally able to tell you that our friends are someplace safe. For almost a year now." He was sorry it had taken so long to get word here.
The dark-haired merchant glanced from Iaondrin – who was scowling – to Vermillion as he stood to take the other man's hand. "That is good news indeed." He did not immediately volunteer whether Vermillion's commission was complete, obviously uncertain whether that was information to be shared with the unnamed woman.
Vermillion noticed the glance. "Don't mind her. She doesn't like sailing and that's where we have to go after we leave here. So did you get my request? Did you have enough time to finish it?"
"I did." Laibrook studiously ignored how the scowl deepened, and turned to fetch a wrapped package from a locked trunk under his desk. "I hope it meets with your satisfaction."
Now that he had it in his hands, Vermillion wasn't sure exactly what to do. He wasn't sure he exactly understood the impulse to commission it, but he did know he was captivated by Iaondrin's hair. And her eyes, if he was going to be honest with himself. "I'm sure it will be just right, Master Laibrook. I am very happy with my brooch," he indicated the ruby holding his cloak closed. "Do you have a private room where my friend and I can check it out?" Vermillion had a feeling Laibrook had seen situations like this before – just maybe not with one of the parties disguised.
Laibrook was a skilled enough merchant – and liar – that no sign of his surprise showed on his face when he realized that the scowling woman with Vermillion was to be the recipient of the gift. "Of course. There is a private meeting room down the hall to the right for the use of guests and customers. You will find it unlocked."
It proved to be a small lounge, with chairs and couch, a table, a cabinet with wine and liquor, and barred windows – to secure it on the ground floor. Iaondrin followed Vermillion in, looked around, and tried to decide whether she should risk some wine – if they were boarding a ship soon, it might make her stomach only more unsettled.
He stood inside the door looking at the package for several moments, then he took a deep breath and held it out towards Iaondrin. "Look, this is for you. I thought it might be something useful to you."
She stopped on her way to the liquor cabinet and turned to look at him in surprise. "Some sort of disguise thing?" she asked. The thought confused her – the items in Laibrook's display cases had not tasted of magic, nor had the man himself. "That could be useful." She glanced at a mirror on the far wall, and could see the potion starting to wear off – brown hair had begun to glint red, and her eyes were definitely back to her own blue. "I can pay you back for this, and the potions, too. Just need to change out some gems."
"Ahh, no. Not a disguise thing. It's just a… well open it."
"It's too small to be a vomit pail," she said as she took the package and began to unwrap the folds of cloth. When the last fold fell away and the gift lay exposed in her hand, she froze in place for a long moment. By the time she looked up, the spell granted her by the potion had slipped away. "It's …" She cleared her throat, and when she continued her voice was faint. "He does lovely work. But I don't know if I should accept this." The fire opal glittered in the light from the sconces.
"Yes, you should," he answered, his own voice soft, gentle. "You were talking about how you hadn't had your hair down in awhile, and it takes you a long time to braid it… I just thought the clip would make things easier on you sometimes. As for why it's not a piece of tin or brass… I never learned to talk pretty, but your hair, your eyes, your skin… they deserve something like that," he nodded at the clip in her palm.
Iaondrin released a slow breath and looked at the clip again. It was easier than looking at him. "Bryan -" She shook her head. "I don't know that I can give you what you want."
"I'm still figuring out what I want," he told her. "Except that I want you to have that, and to wear it once in awhile and to think well of me when you do."
Iaondrin rubbed one thumb over the fire opal. There should be something for her to say, but all she could think was to blurt out, "But you kick puppies."
"Well, except for that," he chuckled softly for a moment. "Like I said, still figuring things out. No one knows what'll happen, so take it and enjoy it, and whatever else happens, happens."
"Okay." The awkwardness had been mostly defused and deflected. She folded the cloth back over the hair clasp and found a pocket to store it in. "Is he going to be trouble if I come out looking like this?"
"I don't think so. This was where we first brought Arkus' daughter after we rescued her. And he's gotta figure my life has some weird elements in it." And he'll understand the hairclip, Bryan added silently.
Despite the reassurance, she was nervous about stepping outside the room into the rear hall. Laibrook was back in his office dealing with the extensive paperwork that came with the League tax system. When he heard the door open, he stepped out. Again, no surprise showed on his face. "You can leave through the back if you want." After Iaondrin passed towards the rear exit, he smiled at Vermillion.
For his part, Vermillion shrugged and smiled bashfully – he may even have blushed. At the docks, they found a ship headed for Malisis and loaded Jaely. As the ship slipped its moorings, Vermillion murmured, "Now the fun begins."
To be continued.
---
DM's Note: This photo used under a Creative Commons license.