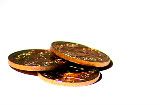 It had taken Bryan a long time to get to sleep. Every time he closed his eyes, images of hair the color of the setting sun and almost-smiles filled his head. He would find himself thinking of blue eyes and porcelain skin. The more he fought them, the more they came back. It wasn't until he let the thoughts drift through him that he was able to fall asleep.
He was up as the rest of the city was wakening. Digging out the last of his ink, he scrawled a quick note saying he would be right back, then slipped out quietly to get some breakfast. He juggled sausage baked right into fresh bread, some kind of almond pastries and two tankards of tea back into his place just as quietly. He set the food and drinks down, then started going through loot he had to sell, including his own winter boots while waiting for Iaondrin to wake.
Iaondrin had been up already, seen the note, and gone back into the bedroom to put her boots on. There had been a moment when she had looked at her bow and quiver, armor and cloak and bag and thought it would be easy enough to leave, to fetch Jaely, and ride away, perhaps into the Middle Redding, with its empty spaces. At some point, you will have to stop, Morgan had told her. Better to choose where to take your stand than let yourself be run to ground. He had chosen his place – he had run until he was tired of it, and found a place where he could feel safe. Where, if someone came, he would have friends at his back. With a sigh, Iaondrin had set her belongings back down and begun to re-braid her hair, waiting for Bryan's return.
"Good morning." She sniffed at the food, and sat down to help herself without bothering to wait.
"Mornin'," he greeted, somewhat brightly. "Sleep well?" His hands and eyes moved over the jewelry, armor and rapier, assessing each and organizing his trip to the shops in his head. He was not a fancier of blades, seeing them as tools, but he had to admit that it was one beautiful rapier. He studied the pendant, noting that the fire opal was close in color to Iaondrin's hair. He placed it back with the rest of the swag, checked the music box and dagger while he drank some tea.
"Well enough. That the stuff from the dead guy?" She did not need his confirmation, but it was something to say.
"Yep," he answered, rising from the floor and sitting in his chair again to start on his pastry. He put the key to his apartment on the table. "I'm going to my parents and Ginko this morning. If you wanted to wander a bit, the Vind are to the east and the rich are in the northwest quarter, just so you know. We can meet later and shop if you like. Get more food."
"Okay. Here?" Iaondrin knew she should say more, should be able to think of more to say, but she couldn't. Maybe she should wish him good luck with his father, or suggest that perhaps he should plan to spend more time with his parents. But it wasn't her place. So instead, she asked "Where is the Skalding guildhall?"
"Here's fine." He gave her the directions. Grabbing his armor and making sure he had the potion, he went out. A quick stop at the armorer's to drop off his mithral shirt for cleaning, and then he went to his parents. He endured his mother's chiding, then told her about the potion. The change in his father was amazing, and Bryan thoroughly enjoyed sitting and talking with both his parents for a couple of hours for the first time in a very long time.
He walked to the House of Estasi and left a message for Vivianna, letting her know he was alive and in town and hoped she could spare a few minutes for him before he had to leave town again in a day or two. Then he went himself to the Skalding hall and sent some gold to Laibrook in Halveet with a request for a hair clip set with a fire opal. He would pick it up when he stopped to talk to McCluskey and Galbrunson. Back at the armorer's, the scrubbing in a barrel of sand had done wonders to his armor. Vermillion settled it back on his shoulders with a few shrugs.
He slid smoothly into the seat across the table from Ginko the Sly. "So, how would I go about getting a Seat on the Council?"
Ginko popped a dried fig into his mouth and considered Vermillion. "You don't visit, you don't write, and now you show up and want me to help you get a seat on the High Council?" His eyes had a quiet laugh in them. "Are you thinking of applying for the empty one?"
"It seems easier than creating a new one," Vermillion shrugged, smiling crookedly. "Nobody else seems to want it. I mean, it's been empty a long time now."
"Lack of people wanting it has never been the problem. Why, it may be that the only people who have a clear claim are also the only ones who don't want it." He pushed the bowl across the table. "The main problem has been forming consensus, or at least a majority vote, on what to do about it."
Vermillion waved off the figs. "So all I'd need to do is get a majority of the other Councilors to vote to give me the Seat? But of course, each Councilor has their own… let's call them toadies… they want to have the Seat, right?"
"Ah, but wait." Ginko held up one finger. "You get ahead of yourself. A majority of which members? All members? Or only Shal? Or only Shal lords who still hold their hereditary lands, as opposed to Shal who are actually just representatives of League cities? Oh, the debates they have had about that." He narrowed his eyes and leaned back to study Vermillion. "Find someone who can aseemble a majority of any of those groups, and you will find someone who, perhaps, can take the seat. If the two heirs are taken out of contention, that is."
Vermillion waved at the air, "They're in Clunne, right? So who's in the best position to actually gain the Seat? And who's backing them?"
"One might wonder at this sudden interest in politics but for things one already knows," he mused, and then left the thought at that. "Those who favor the old rules, the ones followed by the old Shal houses when they ruled all the Reddings and held every seat on the Council, favor descent to related families. There are a host of very distant cousins, many generations removed, and no one is able to puzzle out who, actually, is closest. There are two viable contenders there. Marcelo Shal Priore and Lucetta Shal Fournier. Priore is championed by the most traditional of the Shal, those of the east – Sa'iph, Visayain, Malisis and the like. Fournier finds her support in the western Shal, with one notable exception. There is only one real possibility for those who would like to rewrite the rules, Parlan Tavis of Darilei."
Vermillion almost blurted something out before realizing Ginko was alluding to his last visit and questions about Antazos. He noted the names of the contenders, nodding slowly. "Who doesn't support Fournier?"
"The Lady of Sutton, and those who follow her, mostly the Houses of Wyndham." Ginko did not bother adding that Wyndham's loyalty to Sutton had been bought by Ellinden So's son, when he had protected the evacuation of the city in the face of Seldez's armies nearly two decades before.
"That is a notable exception," Vermillion mused. "What is she holding out for? Priore or Tavis? Maybe me?"
"Ah, yes, you. I think that might have been what has held her hand, the possibility that a scruffy former street-rat from the Tarrish Warrens might rise up and boldly assert his own claim." He grinned for a moment, white teeth flashing, and then shrugged. "Tavis? Unlikely. He would simply solidify Darilei's and the League's control over the west, and possibly rouse Adelu from his uneasy sleep. How she weighs Priore against Fournier?" He shrugged again. "The Lady keeps her counsel, and keeps it well. But her faction has kept the debate humming along, far from resolution."
Vermillion nodded again, thinking it through. The person they needed to contact seemed pretty obvious given Ginko's information. However, of any, his next question was the one that was going to arouse suspicion in Ginko about the information Vermillion was really after. "All right, so I'm in front of the Council, charming them away, and in walks one or both of the actual A'nari. What does the Council want from them and what do they do to them? What happens to me and my claim?"
Ginko took another fig and popped in it in his mouth. He stared at Vermillion while he chewed it, slowly. "The League – and its representatives on the High Council – claim that the two A'nari have assisted the Clunne in raids on and interference with League caravans. Some wish to construe that as a breach of the Shal lords' agreements that the High Council would respect the boundaries of League holdings, and League trading rights. The demand is to strip the A'nari of their seat, and their holdings, and pay recompense to the League Houses and their allies who suffered losses due to the Clunne." Another fig, and another pause to think. "Some of those allies are Sa'iph houses, who would assert a personal debt against the A'nari."
"Sounds like it might be better for the A'nari to just let me have the Seat," Vermillion offered, but there was a tightness in his voice. He glanced out over the harbor for a moment, trying to clear away the sick feeling in his stomach at the thought of that happening to Iaondrin. He wasn't sure he could find out much more, though. Not here. Any what-ifs about one A'nari being innocent or questions about black sheep in Councilors' families would definitely give too much away. But… "Wait, did you say the League 'claims' they helped the Clunne? They don't have proof?"
"Of direct involvement in raids?" Ginko shook his head. "But there are eyewitnesses – some who were taken captive by the Clunne – of Morgan A'nari moving freely among the Clunne and standing with Owen when the prisoners' release was negotiated."
At that, Vermillion plucked a dried fig from the bowl and ate it – an unofficial sign that he was at least mostly done asking questions. "So, I heard tell that Antazos lost his chance at another of Hamal's artifacts. And the last two he's supposed to get? He may have to start wars to do so."
"Really?" Ginko asked the question mildly. "I had heard of goings on at the libraries, months ago, and the instigators riding off north. You have word of them then?"
"Just what I've said. Whatever they learned was enough to lead them to the staff. The cup and the horn are in the possession of those who won't give them up easily." Vermillion shrugged, then leaned in conspiratorially. "I've also heard whispers that Cavallos is making her own moves to destroy Torei. She got her hands on a rather deadly artifact that killed swaths of people and turned them into undead and she was going to use it in Torei. You should look into the stories of a place called Hinderlet and the town of Palderton."
Ginko blinked. "Hinderlet I've heard of. It's about 30 miles out from Tarrish. Or was. Fewer than a dozen survivors made it to Tarrish, accompanied by three Vind, and carrying tales of a fourth who helped save them." He said it flatly, and waited to see what Vermillion might say to that news.
"The dead rose, Ginko. Less than fifty people got out of Palderton. We had to burn the whole fuckin' place to the ground." Vermillion placed a pouch full of twice the usual amount of coins on the table next to the bowl of figs. "I'd be careful who you tell about Cavallos. I'd hate to come here and find the table empty. I suspect she's mean or crazy enough to kill anyone who talks about her business." He nodded a farewell and rose, leaving even as another lurking nearby attempted to nonchalantly take his place at the table.
---
He checked in with Heroz, telling her he wouldn't be home long before needing to go to Halveet. Then he went back to his apartment.
Iaondrin had already returned, and was sitting in a chair facing the door, short-sword across her knees. She stood as the door opened and he entered, and resheathed the sword. She did not ask how things had gone with his parents.
When Bryan first saw her still in his apartment, he breathed a small sigh of relief – not because she had decided not to leave, but because ever since Ginko had mentioned the personal debt, all kinds of bad things had gone through his mind. Then he took in her stance and the sheathing of her sword. "Did something happen or are you being cautious?"
"No, nothing happened." It occurred to her that perhaps she should volunteer that she had been to the Skaldings, bought some carrots and visited Jaely, spent some time walking around the city. But despite the weeks on the road, and the relatively easy conversation the night before, small-talk did not come easily to her.
"All right," he accepted her answer easily. "So, to get it out of the way. The change in pa was amazing. He didn't remember much – something like his mind was unable to process most of what was happening. But he's proud of me, thinks I did a good job taking care of the family. He's hoping he and ma can do some work for the Guild for helping out." He stopped there, not wanting to push his elation too far -her family wasn't coming back the way his had.
"Good." She seemed about to say something else, or maybe to give him an "attaboy" pat on the shoulder, but then just stuck her hands in her pockets. "I'm glad he is doing better now."
He motioned for her to sit down again, wanting to get the information he had bought from Ginko out while it was still fresh. "First, you need to go back to the Skaldings – " he assumed she hadn't sat in the chair all morning " – and tell your cousin not to participate in any raids. There are those in Sa'iph who are looking to acquire more debt-marked. They have people who have seen him moving among the Clunne, but no one who can place him in a raid. It's thin, but staying away from raids might keep him out of slavery if he ever comes back or gets captured."
He will never be a slave, Iaondrin thought. He would die first. She didn't say it aloud, because that would just lead to more questions, the story was longer than she cared to relate, and it wasn't hers to tell anyway. "I don't understand how you get from Clunne raids and Sa'iph debt-marked. But he doesn't go on the raids anyway. That isn't why he's there."
"There are some in Sa'iph who want to assert a personal debt for losses sustained by their caravans raided by the Clunne," he explained. "If you and Morgan were found guilty, your titles and holdings would be stripped, you'd be paying back the League Houses and their allies, some of which are Sa'iph Houses. Now from what I've learned, the Lady of Sutton is who we need to contact," he went on to explain the three way race for the A'nari Seat and Lady So's apparent machinations to keep the Council working ineffectually to fill it.
"Oh." Iaondrin sat down to process everything he had told her. "Well, that's quite a bit more than I imagined," she said in a faint voice. It's not too late to run, she thought, and the thought was obvious on her face.
"You didn't do anything wrong, remember?" he reached for her hand on the table, stopped short and slowly pulled back. "I am here to help you and I'll do everything I can to make sure nothing happens to you."
"We were a house full of mages." She seemed about to say more, but they both heard the footsteps on the stairs outside the door at the same time, and with one smooth movement she had stood to grip her sword before the knock came.
"Bryan?" The voice was a woman's.
Bryan threw a hand up to forestall Iaondrin even as he frowned towards the door. "Vivianna?" he asked in a puzzled voice. The courtesan had only been to his apartment a few times – her suite at the House of Estasi was much nicer for visiting. He stood and opened the door.
The courtesan smiled widely when she saw him. "I hope you do not mind. I was free today, and when I learned you were back in Tarrish …" She shrugged. "Well, it has been so long, without any word, and I wanted to see you. Just in case you rushed out again before you dropped by." Vivianna embraced him and kissed him on the lips. "Welcome back."
Bryan wrapped his arms around Vivianna, enjoying the embrace. "It's good to see you," he murmured, smiling warmly. "I'm fine," he assured her as her eyes searched him.
Behind him, Tessa raised both eyebrows and cleared her throat. "Perhaps I should step out for a bit…?"
"No, no. There's no need," he turned to Tessa, his arms releasing Vivianna. "Vivianna, this is Tessa," he knew the name would ring false to the courtesan, and he hoped she would read his apology in his countenance. "Tessa, this is a friend of mine, Vivianna."
"It is a pleasure to meet you." Vivianna stepped in and held out her hand. Tessa's face was expressionless, and she did not take the offered hand. There was no way for her to make it look like anything other than deliberate rudeness. Vivianna half-turned and looked at Bryan with a question in her eyes, and then allowed her hand to drop, smoothing over the moment. "I apologize for coming by unannounced."
He winced when Vivianna held out her hand, knowing what would happen. "It's … complicated, Vivianna. It will probably make more sense in about a week or so." Then he inartfully changed subjects. "Did you get the chocolate I sent? Hell, was that almost a year ago now?"
"Oh yes, it was lovely. I will confess, I have had to send to Darilei for more, it was so delicious. Did you know you can melt it? Quite toasty during the winter." She took a seat, smoothing her colorful silk gown. "So, Tessa, are you with the Guild as well?"
Tessa looked from Vivianna to Bryan and back again. "No." She paused for a moment, and couldn't think of anything else to say. She could tell that if she stayed, it would be one awkward moment after another. "You two have some catching up to do." She moved to the door. "I will be back later."
He had felt the awkwardness and looked from one woman to the other helplessly, watching Tessa reach for the catch on the door. She had been thinking that running was a viable option again just before Vivianna came in, he had seen it on her face, and that sinking feeling was back. "Tessa, please wait," he said with quiet urgency. "Do you trust me?"
Vivianna looked away, as if checking a button on her gown, or perhaps a loose thread, anything to not directly watch the two at the door. "I do," Tessa finally said, blue eyes meeting his.
"I understand if you think you should take a walk, but if you want to stay, I'd like you to trust that I know what I am doing," he glanced quickly at Vivianna, letting Tessa know he thought she should tell the dark haired Shal woman, that it might be another small step away from running. "I will keep you safe."
Tessa looked at him for a long time, mouth tight and jaw clenched. The urge to go was almost over-powering. Not just to step outside the room, but to go – leave behind whatever was in her pack, her bow, and simply fetch Jaely and ride out. He could see it, she knew, as surely as if the threads themselves had whispered it to him. Finally, she let go of the door and turned to lean against the wall next to it, arms crossed over her chest.
Bryan took a slow, deep breath and let it out. Such strength she has in her, he thought. "Take a deep breath. Try to relax little. We're just talking back and forth, like last night." He paused hoping she could recapture just a little bit of it. "Can you tell me your name?"
Her eyes moved to look over his shoulder at the dark-haired Shal woman in the chair. Vivianna had not moved, but she had turned to consider them both. She was not Politi
no
the threads confirmed. Then who and what was she, in her Neridi silk and her jewels? Someone Bryan trusted, and it was important to him that she trust the woman as well. But that was not enough.
Tessa looked away and shook her head.
"I understand," he said softly, a bit sadly after a moment. "I'm sorry if I asked for too much." He stepped slowly away from her, to the far side of the table and sat, leaving her to decide what she would do, though he knew he had no say in the matter anyway. "No more pressure."
Vivianna watched Bryan sit, and laid one hand on his knee in an encouraging squeeze. "Tessa," she said softly, "please, no offense is taken. I would like it if you would stay, with whatever name you wish to give."
The auburn-haired woman held herself carefully, her face pale. She knew she had hurt him, but did not know how to undo it. "I will wait in the bedroom while you talk," she finally said, voice rough. It was the best compromise she could manage right then, a way to separate herself without leaving entirely.
Vivianna simply nodded. "Perhaps at some other time we can get to know each other better." She watched Tessa close the bedroom door behind her, and then looked back to him. "Oh, Bryan, I think perhaps I could not have come at a worse time."
"No, no, it isn't you, it's me. I pushed too far too fast." He rubbed his eyes for a moment. "What I'm trying to help her with… I haven't lived it and I tend to believe we'll come out the other side fine. She has lived it and is fairly certain we won't." He looked to the bedroom door, then back to Vivianna. "But when you've stood in front of a dragon, nothing much seems that dangerous anymore." He put on as innocent a face as he could muster as he said it.
Vivianna laughed at the joke, because of course no one had seen a dragon in several centuries. And then she realized it wasn't a joke. "A dragon?"
Bryan smiled and nodded. Then he began to recount everything he had been up to from the time they last saw each other over a year ago. His voice may have been a little loud so Tessa could hear. From saving the girl in Darilei, through the stop in Malisis and the hit on the smugglers. From the threat to Kaz and the realization that the next move in the dance would be the beginning of the end past the research in Halveet's libraries and the trip to the north. He finished with Palderton, Obber's Mill and the discovery of a new player in the game and the restoration of his father.
Vivianna listened, rapt, interjecting the occasional question here or there, and smiled widely and hugged him again at the news of his father's healing. At the end she let a few moments of easy silence pass before lowering her voice. "What happened at Hinderlet caused quite a ruckus here. By the time riders were sent, the survivors were close to Tarrish, three Vind with them. But they said there was a fourth."
He glanced at the bedroom door again and nodded once. "Who said what about a fourth?"
"Some of the Hinderlet survivors. That there was a woman, one with red hair, who helped the survivors, but who stayed behind to make sure nothing followed them." Vivianna frowned slightly, trying to remember the details – it had not, after all, seemed all that important when the story was told to her. "No one knew her name, and the three Vind professed not to know her. She was in Palderton with you?"
Bryan nodded again. "She was there before us. I don't know how long they held off the creatures before we got there to help." He shook his head for a moment. "Umm, are there any of the Hinderlet people still in the city?" That might make things tricky.
"I don't know. I could find out if it is important."
He shook his head. "We'll be leaving early tomorrow," he told her. "Don't worry, we'll be staying in the League so I can send messages. But we need to get where we're going without drawing attention to her. If the League looks into it, thongs could get tougher."
"All right. If I hear anything, I can send word." She stood and leaned in to brush a kiss across his cheek. "Try not to let her break your heart."
He closed his eyes, savoring the contact of her soft skin. He had missed it, and not just in an arousing way. The simple act of a connection just plain made him feel better. But her last words made him pause. "I … well, I'm not … I'm still trying to figure out what I feel," he finally stammered. "She's strong, stronger than she knows, and a better person than me under the gruffness. I'll help her as long as I can." He stood and slid his arms around Vivianna, held her for three long breaths as if trying to make himself memorize how it felt. "Be safe, and I'll do the same."
"I will." She let him lead her to the door, where with a last smile, she took the stairs down to her waiting carriage. He waited with one hand on the door as the faint sound of the carriage faded away. Bryan would miss her – he didn't even get his Stones lesson—and it made him think of Kaz. He needed to see Kaz before he left. The Guild worked best when they worked as a team.
He moved to the bedroom door and knocked lightly. "Iaondrin, we need to talk about the Aihv'."
She didn't answer right away, then opened the door. "What about it?"
He jerked his head towards the table, poured the last of the Vanek Red into the goblets and set them on the table. "The Lady of Sutton seems to be setting the rest of the Council against each other when they talk about your Seat," he said as if they hadn't been interrupted.
Iaondrin frowned slightly, perhaps surprised he didn't comment on what had occurred with Vivianna. "Okay. She tends to do what she wants."
"Yes," he sat at the table. "And since after all this time she hasn't found someone to support, I think she's hoping for an A'nari. How do you read it?"
"I don't know." She left the goblet untouched on the table in front of her. "It could simply be that no one has offered enough to buy her vote."
He thought about it for a minute, then shook his head slowly. "I'm no expert at this, but it seems a long time to not find anyone you can support. I think I need to talk to her about clearing you with the League."
"You don't have the same perspective on time. It has been a little over eighteen years since – and only six that Morgan and I have have been posted. It isn't as long as you think." If Bryan hadn't noticed it before, this confirmed it – she had a pessimist's outlook.
"Well, is there any other Councillor you think is more likely to get us a soothsay in front of the Council without dropping one or both of us in a dungeon to be forgotten?"
"They're more likely to just kill us outright. Better to be sure we're dead than risk a daring escape." There was a note of frustration in her voice. "But no, I don't have any better ideas."
"Then this is what I'm thinkin' we should do. I need to stop in Halveet for a few hours to talk to two Scholars about my trip to the north. I told them I would," he shrugged apologetically. "Then we sail to Malisis, take the ferry to the Aihv' and I try to get an audience with Ellinden So, all without revealing who you are until that meeting. Anything you'd like to do different?"
"Other than run away? Once on the island, I won't be able to just leave."
"Might be better for you to hide in Malisis until I feel out Lady So," he admitted. "Speaking of which … I find your hair marvelous, but there might be people from Hinderlet in the city."
"I could dye it. Wouldn't be the first time. Or cut it off." She said it flippantly, but the mention of people from Hinderlet troubled her.
"No," he said softly, urgently. "Not that." His eyes slid over her hair briefly. "I .. I hate to ask, but stay here. I'll be a short time selling and setting up the chits at the Vind Hall. I'll buy some supplies and anything else you want for tonight or traveling. I'll get us the first ship to Halveet in the morning."
"Okay." She wasn't happy with the idea of a ship. She would be stuck on a ship. And it would get them to the Aihv' faster.
Bryan heard the tone in her voice. "I know someone who can get us a ship with a captain and crew who won't ask questions put us off outside the cities," he offered. Vivianna could have it within the hour if he needed it badly enough.
She shook her head. "It's not worth the risk. Someone like that might not ask questions, but they will answer them for the right price."
Not if they wanted to see Vivianna again, he thought, but let it go. He knew she was uncomfortable enough with getting there faster. He cocked his head at her as an idea occurred to him. "Can you use magic to disguise yourself?" As he said it, he realized he could buy something that would allow it. He was kicking himself for not thinking of it before.
Iaondrin blinked. "For about an hour at a time," she answered after a short hesitation, "often enough for less than half the day, if I do nothing else."
"Potions. I should have thought of it sooner. Hells, we've used them before to get in and out of cities." Something like Cassick's hat would be perfect, but Bryan doubted that Azpiri would just happen to have one ready to sell. "If you wanna try your magic now, we can both go shopping. We'll just stop at the mirabicary first to get the potions, or scrolls, or whatever."
She frowned slightly – not the full-blown scowl this time. She didn't like to use the threads, didn't like calling them to her, and had cast the weaves in Palderton only because the need had been so dire. "I didn't do anything to disguise myself at dinner," she pointed out. But she knew he was right – the more time they spent out, the greater the risk someone would see her. Especially at a shop with ensorceled items, where a mage would be. "And if someone sees through it – because it's not fool-proof – it might raise a greater suspicion."
"At dinner we didn't know that the people from Hinderlet were talking about the red haired Shal woman who helped them and stayed behind to make sure nothing followed them as they escaped," he pointed out. "I was just trying to keep you from feeling cooped up in here, but you're right, it would cause more suspicion if someone saw through it." He rose and shrugged himself back into his armor, hoisted the pack of items. "Anything you want me to get for you?"
The realization that her argumentativeness has led to being stuck in the apartment led to the reappearance of the full scowl. Iaondrin couldn't see a way to work her way out of the trap she had laid for herself. The options were going out as herself (a greater risk than they had realized), staying behind (and fighting off the urge to simply flee) or attempting a simple alteration that might not draw too close a scrutiny. "Wait," she stopped him before he left. How to say it? That if he left her there, she wasn't sure she would be able to make herself stay? "Stand over there. No, wait, I'll just stand over here."
She needed the distance, so she could close her eyes and draw a deep breath, and pull the threads
in
to herself. The soft whispers grew in strength as her fingers moved, weaving the pattern of the spell like a net around herself. She gritted her teeth as it settled, wincing. Watching directly as he was, he would see it only for a moment, until his own knowledge of the truth would ruin the effect. He would have to look at it sideways to even have a chance to see it again.
Darker hair, more a muddy brown, and brown eyes, and rougher skin. Someone just slightly different from herself, more common with less of the old Shal blood visible. Add a scarf over the hair and some dirt on her face, and it might serve.
He gave her a small smile and a nod, then led her out and across several streets towards the Guildhouse, stopping at a mostly nondescript shop. Azpiri worked with the Nightsong Guild, providing enhanced and ensorcelled items that would help their work. Dealing with strange requests, like for potions that would allow a person to totally change how they looked, didn't faze him at all anymore. He sold the armor, rapier, and the scrolls, then bought most of the potions Azpiri had available.
Iaondrin waited outside, and a building away, rather than risk a mage in the shop noticing the spell. True, lots of people passed by with a touch of magic in their colors, whether from their armor or a weapon or a bit of jewelry, and perhaps she would be overlooked as simply one of the crowd. Still, she waited outside, and tried not to scowl at everyone who passed.
From there, he stopped in the Guildhouse to find out where Kaz was, then some brisk shopping to replenish traveling supplies and get some things that might make staying in his apartment a little better. He tried to time it so they would be back before the spell wore off. "I need to go to the Vind Hall now," he said back in his place. "That might be a bigger risk with your spell."
"All right." She would not risk that, even enspelled. Mages were guaranteed to be there, ones who would recognize how the threads curled around her, ones suspicious of people wearing a disguise and easily able to ignore the illusion. Where would that leave her, in a roomful of Vind, with her face on the wall? "I guess I'll wait here."
"We have a few potions that will actually change you, so there's no illusion to see through, but we might want to save those. Sorry," and he was, "but at least you now have some things to look at or do." He went to the Vind Hall, put the money for each of his partners to have their share. Then he went looking for Kaz.
---
"Got a job for you. I need you to shadow me and the woman that will be with me for awhile."
Kaz raised both eyebrows. "What, you're hirin' us now? The chocolate trade been that successful for you?"
"Nah, this is personal. I can't explain everything yet – it's not my tale to tell -but I have a feeling I'm gonna need someone nearby that no one else knows about."
"All right. Tell me where to pick you up."
"We're leaving on the first ship to Halveet in the morning. I have to talk to a couple Scholars about my recent trip and pick up a piece of jewelry I ordered. When we leave there, we sail to Malisis, then one or more trips out to the Aihv'." Vermillion watched Kaz's eyes widen in surprise. "Yeah. Now you understand my worry. It's likely to be the woman and I against almost all of them."
Kaz listened while Vermillion told him when and where to add the tail, and they agreed on a sign Vermillion could give if he ever needed to speak with Kaz separately and signs for who Kaz should follow if Vermillion and the woman had to separate.
"I better get some chocolate out of this somewhere along the way," he growled.
---
It was simple enough to book passage to Halveet for the first ship leaving in the morning … or one an hour after that … or an hour after that, depending on how late a breakfast Bryan wanted.
Back at the apartment, Iaondrin was sitting in a chair with a piece of wood in her hand and a pile of shavings on the floor. Another piece sat on the table, already carved. It was unrecognizable. "Doesn't look much like Jaely, does it?" she sighed.
"It needs a little work," he said diplomatically. He set about making sure everything he needed, practically everything he owned, was packed and ready to go. He laid out the bread, cheese and fruit he had bought for dinner and they ate. "So…why do you put Shal in the middle of your names?" he asked curiously.
"Tradition. To remind ourselves that we are not among the lesser races." With one free hand, she fiddled with the three-legged lump that was supposed to have been a model of her horse. "Only the old families – those from the owners of the original Reddings – are supposed to use it, not even the lesser classes among the Shal. My mother never liked it, for those reasons. Morgan generally doesn't use it. To be from one of the old lines and not use it means something."
He mulled that over for a moment or two. "And what if someone, oh let's say me, didn't use it when talking to someone from one of those old lines, hmm, maybe Antazos? How does that go over?" He had an idea how that would go over, but it never hurt to be sure.
"Are you looking to pick a fight?" She raised both eyebrows. "You really don't need another reason to piss him off. And where were you planning to do this, around others? In the Council?"
"No, no. I don't want to annoy everybody, just him. I was just curious really." He tried to keep their talk light, knowing she was nervous and, if he were to be honest with himself, so was he.
In the morning, after they got Jaely and were working towards the docks, he said, "You can stay in our cabin or with Jaely most of the trip. I'll tell anyone who wonders that you don't sail well."
"She's never been on a ship before." Iaondrin herself looked a little green around the gills herself at the thought of boarding the ship. "I hope she's okay with it." The horse, in turn, just flicked her ears, looking none the less jaunty as she climbed the gangplank into the hold.
To be continued.
---
DM's Note: This photograph used under a Creative Commons license.