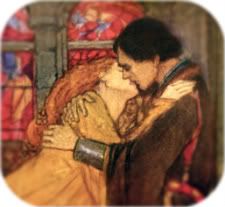 It was a little after dark when he woke up in the same position. He held still for a moment, adjusting, making sure there was nothing that had actually awakened him When he was sure they were still alone, he slowly pulled her tighter against him, pressing his cheek against the top of her head. "My Lady?" he whispered.
Iaondrin opened her eyes and looked around the darkened room. The threads were quiet. "Time to get up."
"We can move you to the bed if you want," Bryan answered. He used his free hand to rub at his eyes.
"You think I'm actually going to sleep?" She should – she had never really dozed with him, but had simply sat curled up against him watching the shadows grow and he colors of the threads settle into their own rest. "Is your friend going to come back to the room, or is he going to wait outside for something to happen?"
"He'll probably be lurking around somewhere. If I, or we, can handle whoever comes, so much the better and we still have a secret ally. Even if he has to help, I want to keep his involvement secret as long as possible. Let them wonder how I am able to hold off everything they are throwing at us." Bryan paused for a moment, reveling in her warmth against him. "If you're planning on helping me tonight, you may want to change out of the dress."
"I know." If she had been better trained as a mage, it wouldn't have mattered so much, but she needed to be able to move more freely than even this light gown would allow. But when she moved, it was not to sit up or stand. Instead, she snaked one arm under his back and the other across his stomach. "I'm not trying to pick your pocket here," she said in an almost-whisper. Though she knew he would hardly mind, it made her more nervous than she had expected, and she needed the joke to try to cover that.
Bryan hesitated a moment, clearly surprised, then slid his free arm around her, tightening the one already curled behind her. He held her tenderly, not trusting himself to speak, not having any words. He shared his warmth with her, his promise of safety, and let her take all she needed.
Iaondrin half-sat, hand sliding up to his shoulder, and pressed her cheek against his, hair falling over his face. "You need a razor." Again, the jest.
He gasped softly, breath catching, as he felt her flawless skin against his, was surrounded by her glorious hair. "My Lady," he offered, voice thick with emotion.
She closed her eyes, listened to the threads whisper. "I don't have a joke for this one." She turned her head until her lips brushed over his, a feather-light touch. This is not wise. The thought was there, in the back of her head, that she should pull away, this was not either of them needed when they should be preparing for an attack to come during the middle of the night.
Bryan lifted his head to follow her mouth, brushed his own lips over hers, imitating her. He felt the beating of his heart, then hers against him. Fingers of one hand slid through her silken sunset tresses, tips of the other slid lightly over the skin of her back, up and down her spine. He settled his head back against the sofa, gladly accepting what she had given him and clearly surrendering to her choices.
The four narrow runnels of the scar that crossed her back were slightly chill to his touch, faintly colder than the surrounding skin, and she shivered when his fingertips passed over it. She leaned into the kiss, deepening it. Just a few moments more, she told herself. Then she would stand up and change, prepare herself to wait.
He sighed into the kiss, lost in it, lips parting slightly to brush a tender caress across her soft mouth. His arms wrapped around her again, held her against him, everything else fading away but Iaondrin for a moment that stretched into eternity. Reluctantly, he slid his lips from hers, pressed a kiss against her cheek, then his cheek against hers. "My Lady," he said, and his feelings for her were clear in his voice, even if he couldn't name them himself.
"I know." It could have been a acknowledgment of what he did not say, or a statement that she knew this was not the best time for her to have taken this step. Iaondrin held herself there, eyes closed, and then unwrapped her arms and pulled herself away to stand. "I will set the alarm on the door first."
She walked over to place one hand over the surface of the locked door, and whispered back to the threads as she traced the outline of the mouth. The weaving took shape under her touch, echoing back to her the names of the three – herself, Bryan and Kaz – who could pass through the door without awakening it. Then, she went into the bedroom to change, leaving the dress draped over the back of a chair.
Vermillion lit the lamp on the table then strapped his weapons back on, settled his buckler on his arm. He slid the table across the floor so it was between the entry door and the bedroom door, placed his springwall and the jumping caltrops on it so he could grab it if they needed to retreat to the bedroom, or from the bedroom. When Iaondrin was dressed, he went to her holding the pouch of disappearing dust. "No arguments this time – it's not for you. It'll be easier for you to use it on me than for me to use it on me if we get stuck."
"Okay." She took the pouch and tucked it into a pocket where she could easily grab it. A twist of her wrist, and the long, thin blade bearing the unseen poison slipped into her right hand. "Where do you want me to be?" He would want to be between her and anyone who might come in, and she did not want to be in his way when that happened.
"Tarrish," he muttered, but drew her to the sitting room, moving two chairs near the bedroom door so they could react to attempted entry from either place. And if they came from more than one place then things could get interesting. He explained the use of the caltrops in case they needed to slow down an attacker. "Can you make light if we need it? If either lamp goes out, we're in trouble."
She nodded. "It was one of the first things I learned." She took the chair that he indicated she should take, and tried to force herself to relax while they waited.
---
They waited in the lamplight for hours, not speaking and barely stirring. Vermillion would stand or couch unmoving for long stretches of time, listening for any sound of intruders. Once in a while, he would reach over and squeeze Iaondrin's hand reassuringly.
Then he caught the sound of a furtive footstep in the hall. Motioning for Iaondrin to stand, he slipped quietly to the door, waiting on the balls of his feet, sword ready. With his other hand, he popped the top of a vial and drank a potion that would speed his movement further, that would allow him to dodge any blows more quickly.
The bolt slipped back by some magic, and Iaondrin could see the threads of the weave she had placed on the door leap in response. She stood as the mouth formed and spoke the warning. After a short pause, the door swung open, and Vermillion was on him.
The runes of his sword glimmered red and angry again, and this time they would taste Shal blood. It took mere seconds for Vermillion to leave him dead on the floor. But while he was spraying the first attacker's blood across the floor and far wall of the hallway outside, another coalesced from misty vapor next to Iaondrin.
She took the worst of an exchange of blows, dagger versus sword, and her blade scraped across his skin without any sign of the poison taking effect. She grunted in pain as his sword skipped across her upper leg, cutting into it. Vermillion stepped back to her, with his own slice and thrust of blade into the man, driving him away from her. His foe shied back in pain. Before Vermillion could finish him, Iaondrin yelped, and he whirled to see the floor open up beneath her feet and drop her to the room below. A bolt of panic shot through him.
Without hesitating, he jumped through after her, rolling and coming up in the center of an identical sitting room facing a two-ringed Shal Politi and his human swordsman guard. Vermillion slashed first at the Politi, then again while he stooped to touch Iaondrin, who still lay at his feet. The mage tried to dodge, but the hungry blade ran him through.
As Iaondrin regained her feet, Vermillion turned back to the swordsman. "Surrender and you can live," he said dangerously to the swordsman, but the man turned and threw himself at the door. That wasn't one of the choices, Vermillion thought absently as his sword skittered off the man's armor, the runes no longer glimmering. As the fellow yanked the door open to flee, the smell of electricity filled the air, and for an instant of a second before the bolt formed Vermillion thought he could see something twist and form out of the air around them, gathering itself – and then coiling and lashing out, tearing through the swordsman.
His back arched and his mouth opened in a silent scream of surprise as the bolt hurled his lifeless body ten feet down the hallway, towards the common room. There were sounds of crashing plates and tables, and cries of alarm when the smoking body skidded to a stop.
Vermillion turned, noting Iaondrin's hair floating in a cloud around her head. He grabbed her, pulled her from under the hole to stand behind him. He stood, breathing heavily, sword at the ready. A faint footstep came from above. Vermillion cocked his head, and heard Kaz's steps leave the room upstairs.
Vermillion relaxed visibly, lowering the point of his sword, and turned to Iaondrin, eyes searching her for wounds. "Are you hurt?" he asked urgently, still holding her hand.
Small sparks flashed in her hair as it settled, and her mouth was thin with anger. Her hand clenched around his, and he could feel the lingering heat of the spell, and how her fingers twitched to call another. "They're coming." She heard the careful footsteps of someone approaching from the far end of the hall, someone not even trying – or even capable of trying – for stealth. "But they're afraid." The way she said it told him the thought pleased her.
"Uh …. th-the guards are on their way!" a trembling female voice called out. "You sh-should just go! W-we won't try to stop you."
"My Lady," he said firmly, stepping closer to Iaondrin and forcing her to focus on him. "Are you hurt?" he asked again. Somewhere in the back of his mind, he was wondering why they were being kicked out since they were the ones who got attacked.
Iaondrin blinked, eyes focusing on his face. She ached from the fall, and she could feel blood trickling down her leg, but neither injury was serious. "I've had a lot worse," she told him. But as the threads drained away from her, she suddenly felt weak, and clutched at his arm in surprise. "He did something," she said, looking down at the mage and wanting to pick up her dagger – where had it fallen? – and stab his eyes out.
"I've got you," he said, slipping his arm around her to hold her up, them moving her to a chair to sit in. "Use the belt, see if it helps," he suggested, worry lining his face. He was already reaching for the other potion of restoration he had taken in case his dad had needed it, but they may be in trouble unless they could figure out what the mage had done.
She nodded, and triggered the belt he had placed around her waist. The warmth grew, moving throughout her torso and into her limbs, and she could feel the shallow cut across her upper leg knit itself together. The ache across her lower back faded away. But she still felt weak, as if she had been floating in water for a long time, and then crawled back onto land, feeling the weight of her own body and her armor as if it was an unfamiliar thing.
Vermillion could see right away that the belt hadn't done as much as she needed. He cursed and handed her the potion. "Same thing my pa took. Should heal any damage, but if the spell's still there…," he left it hanging.
Footsteps sounded overhead, and voices shouting at the dead bodies above, and then someone peeked over the edge of the hole in the floor to look down. It was one of Gilford's own guards, one who, judging from the nightshirt he wore and the tousled nature of his hair, had been sleeping when the commotion started. "Is your lady well?" he asked.
"No. That," he snarled pointing his sword at the lump of Politi in the corner, "cast something on her before I could gut him and I don't know what it is. If you got a priest you trust, get it here now." As he heard movement upstairs, he yelled angrily, "And no one touches the fucking bodies! They're mine!"
Vermillion could hear the man tell his colleagues to watch the room above, and he shouted down that two more would be coming through the hole to wait with Vermillion below. One of them was already wearing her armor when she dropped – only after waiting for Vermillion's permission – but the other first had to drop in his boots, chain shirt and swordbelt before he followed. "Minister Portnoy will be here shortly," the woman told Vermillion. She stepped out into the hallway while her companion pulled on his armor and boots, and then walked out to join her.
Iaondrin had already uncorked the vial and drained it, and then set the empty bottle on the table-top. Her face was pale, and she shook her head, knowing with a sinking feeling that the potion had been wasted.
He cursed again, more softly this time, dropping to one knee in front of her. He slid his hand into hers, twining their fingers together. "I'm sorry, I should have been faster." He hated feeling helpless, but all he could do was kneel there and will his strength into her.
"It never even occurred to me that the a big hole would just open up under me." She looked past him, where an older heavyset man with white handlebar mustaches, wearing a long wool robe and slippers had stepped through the door. He carried with him the faint smell of sweet pipe tobacco. At some other time, under different circumstances, she might have found the odor pleasant; now, it just made her nauseous.
"Barnabas Portnoy," he announced himself in a gruff voice. He glanced at the body of the dead Politi mage lying sprawled in front of the door to the bedroom, and stepped past it without comment. He pulled a chair up in front of Iaondrin and sat until their knees were almost touching, and then brought old a gold symbol of Otori from one pocket of his robe. "Now let us see what's been done to you, girl."
Iaondrin could feel another spell working, something altogether different from the way she saw and used the threads, when he cupped her chin in one hand and met her blue eyes with his own brown ones. In that moment, some memory tickled at the back of her mind, but tired as she was, she could not grasp it, and then it was gone. He spoke softly, and the spell shook itself free of his fingers and sank into her skin. It was like a lurch inside, a skip of her heartbeat, and something unnatural being torn away from her and shredded, and suddenly her blood surged and her own limbs no longer felt heavy.
"Aye, there you go, that'll do you quite well." Portnoy patted her on the shoulder and stood up. "Just you sit and rest a bit." He pooled the chain of the icon in the palm of one hand, and slipped it back into his pocket. As he stepped away, he indicated Vermillion should join him by the door, where he spoke in a much quieter voice. "She'll be fine now. But they almost had her. I suggest you both come and stay in our suites. Allenel's still in the Aihv', not expected back tonight, and it'd be best to have some extra blades between her and anyone else." He looked back at the dead mage, and then down the hallway at the swordsman. "Though I'm sure you alone can do more than any three of ours."
Even as Vermillion stood with the priest, listening, he watched Iaondrin. "Comin' back for more after all this takes more plannin' then they've had time for," he muttered absently. "Thank you, Minister Portnoy. More eyes and more blades are always helpful. I think we'll take you up on that if you have a spare room." The other choice was to cajole and threaten until the innkeeper kicked someone else out of their room. Probably just more assassins anyway, he thought darkly. He moved back to Iaondrin, explained the invitation and offered his arm for her to rise, then motioned for the priest to lead the way. "I'll be back to do what I need with the bodies after I get my Lady settled," he told the Gilford's guards at the door.
Iaondrin allowed him to lead her out of the room, following the priest. There were other people in the hallway, but they stepped aside as Portnoy harrumphed at them. He waved one hand, and the waitress who had called down to them shrank back. The common room was not as crowded as earlier – it was the middle of the night after all – but there were still a good dozen people scattered around the tables. From the way they shrank back, it was apparent that all of them had crept close enough to see the swordsman's body.
She did not miss how the priest kept himself between her and the strangers, or how he took the steps first with his hand in his pocket to hold the holy symbol. Kaz is up here somewhere, she thought as they topped the first flight of stairs and turned left rather than right. Portnoy paused only long enough to call one of the guards to follow them down the uppre hall to a different, larger suite. "The two of you can have my room," he told Vermillion as he led them in past two other guards. "I'll just fetch out my things. Hope you don't mind the smell of pipe tobacco. You go tend to what you need to tend to, and we'll keep her safe for you until you get back."
Vermillion waited for Portnoy to collect his belongings, then followed Iaondrin into the room, sat her in a chair and knelt in front of her again. "Will you be alright here for a bit, my Lady? I wouldn't leave you if I thought there was more danger to you tonight."
"I'll be fine." Iaondrin said it calmly, with little emotion in her voice, or in her face. When she looked at him, it was from a far away place, where she had walled away her anger. She couldn't let herself give voice to that anger right now, when the only people in her path were him, and those who sought to help them. "You should go."
He sighed, "Yes, my Lady," slipped his pack off his shoulder to leave next to her on the floor. Calling a clean set of clothes to the top, he brought them out and left them on the bed. "I'll be a while, couple hours. I'm going to need those when I come back, and another bath." He called the tools of his trade from the haversack, tucked the roll into his belt as he turned to leave.
She looked at the clothes, and then frowned slightly. A couple of hours? Another bath? "Do I even want to know?"
"I just have to send a message," he said almost conversationally, but his face and the line of his back were grim, and then he was gone.
Back in their old room, he stripped everything of value from the bodies, leaving them in only plain clothes. Any coins they had, he set aside, the rest of it, he piled up to take back the their new rooms later. Then he dumped the bodies down the hole, jumped down himself and repeated the process with the other two bodies. Then he went to see the innkeeper, give him the coins from the bodies. "They caused the problems, they should pay." Then he asked if there was a back door and someplace he could work undisturbed for awhile.
The innkeeper took the money and looked at Vermillion's face. "Town guard's here already," he said. "Talkin' to folk as was in the common room. Me son'll show you the shed out back, and guard'll wait 'til morning to talk to you."
As he left, he signed for Kaz to come talk to him, then he dragged the bodies to the shed and got to work.
---
"I'll give you some more coins to give Frasier for his help tonight," Vermillion told Kaz two hours later, just before they split up to enter the Cauldron separately. Using the back door, he went up to Gilford's suite, nodding to the guards on duty, already removing his weapon belts. He slipped silently into their room, hoping not to disturb Iaondrin.
She was asleep, but not on the bed. She lay curled up in the dark on the floor in the corner of the room that shared common walls with others in the suite. She had pulled a pillow down onto the floor to rest her head on while she slept. Lines of light glimmered in the darkness, forming a circle on the floor around her. She lay on her left side, facing outwards, and in the low-light from the lamp he could see the steel of the long blade held loosely in her right hand.
Bryan's first instinct was to go to her, but he was covered in blood, sweat and grime from the work he had done earlier. Leaving his sword on the floor just outside the circle where she could reach it, he shrugged off his mithril shirt, left it in another corner. He stripped down to his smallclothes, deciding he would just throw out what he was wearing. It was probably time for some new clothes for himself anyway. Maybe green, he smiled slightly with a glance towards Iaondrin.
He took more time in the bath this time, scrubbing better, soaking longer, then ran a dagger over his cheeks and chin again. Once dried and dressed, he lit a candle in the bedroom, then moved to sit on the floor near her, but out of reach of the knife. Sorrow filled him that he had had to leave her like this. "My Lady," he whispered softly, then again slightly louder.
Iaondrin jerked awake, fingers clutching tightly at the hilt of the dagger, scrambled to her knees and held the point out protectively. She blinked in the light, and realized it was him. The point of the dagger wavered, and then she slowly lowered her arm. She looked down at the faintly glittering circle, and he could tell she hesitated to dispel it. Meager shelter though it was, it had allowed her to sleep.
Finally, she cursed softly to herself, and touched the fingertips of her left hand to one edge of the inscribed patterns, and it dissipated. She tried to slide the blade back into the sheath on her forearm, but her hand trembled too much. Mutely, she held her hand out so he could take the hilt from her grip.
He rolled forward to his knees, one hand taking the dagger and putting it on the floor, the other reaching for hers. Shifting closer, he pulled her into his embrace. "I'm here, Iaondrin. You are safe," he whispered, repeating it a few times.
She didn't say anything – no biting comment accompanied by a frown, no defiant scowl. The fear had beaten her down, leaving her silent and distant, almost as she had been when they first met. But at least she did not pull away, and settled in against him with her arms around his waist.
Bryan shifted again, slid an arm under her legs and lifted her, carrying her to the bed. He didn't bother to ask her if she needed him to stay with her the rest of the night, and settled in close to her, wrapped her tight in the circle of his arms so she would know even while sleeping he was there and she was protected. "I'm here for you, my Lady."
It took her a while to go back to sleep. She listened to the sound of his heart beating, to the murmur of the threads. Eventually, she closed her eyes again, her breathing deepened, and she relaxed into slumber.
To be continued.
---
DM's Note: Detail used from "It was their last hour" by Emma Florence Harrison, an illustration to "Guinevere" by Alfred Lord Tennyson.