This scene begins immediately after the PCs' discussion of what to do with the Dreamsong in Obber's Mill.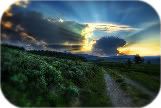 Vermillion was seething with anger. He had mostly contained it on the ride back from the ambush, but the discussion of what to do with the Dreamsong brought it back. Fuckin' hell, he thought. Just when he thought Sa'iph couldn't get any worse, their disregard for non-Shal life stunned him again. "Non-Sa'iph life," he muttered to himself, still stanfding where the group broke up. Surely there were Shal in Palderton.
Ghini and Tessa listened while the others debated what to do with the book. The sheriff's comments were few but decisive. "Get rid of it. However it can be destroyed so no one can ever use it." Having said her piece, she shoved back her chair and stalked out of the common room of the inn. Tessa just sat in a window seat, knees pulled up to her chest. She watched the other woman leave with distant blue eyes. It was as if, in her spot across the room, she held herself apart from the debate, that whatever decision they made mattered nothing to her.
It was several long minutes before Vermillion was able to push his outrage down again. In the end, he couldn't do anything about Cavallos anyway. He looked at his mug, but left it untouched. His thoughts turned to other things he needed to do – McClusky and Galbrunson, the books in Malisis, plain old work. Taking a deep breath, he let his eyes wander the room.
"What will you do now?" he asked Tessa.
She stared out the window and shrugged. "I don't know. I wasn't headed anywhere in particular when I hit Hinderlet. there were Vind there who knew me. The ones in Palderton did, too." She rubbed her face with both hands. "Before he died, Jack said none of them would…" She shrugged again. "Report anything. The ones in Hinderlet probably already have. It's really just a matter of time, isn't it?"
Vermillion stepped across the room, slid a chair next to the window seat and sat in it, leaning towards her. His eyes searched her face in profile, almost unable to stop. "Well, maybe we should clear your name," he suggested softly.
One corner of her mouth curled in a humorless smile. "Clear it? You presume it can be cleared."
He raised an eyebrow, cocked his head slightly. "Can it?" he asked his first direct question about her past plainly and without judgement.
"That depends on how you mean that? Did I support the Clunne? No. Will it matter? I doubt it."
"Hey," he said gently, waiting for her to look at him. "Are you sure you're not just jaded from all the running?"
She blinked, scowled, and looked ready to snap at him. "I didn't help the Clunne do anything. But there are two of us, and it wasn't enough to accuse just one." She glared, as if what she had said was supposed to make sense.
Vermillion sat calmly in the face of her irritation. His mind worked to puzzle through her statements, teased by something he should know. "There is another poster," he said, almost surprised.
Tessa's frown deepened, but she nodded. "Yes. Morgan, my cousin. He – he is the other one with a claim on the keep and the Seat."
The Seat. His eyes grew distant as he thought. An empty Seat – who wouldn't want it? Who had a chance to take it and what would it require? He didn't know, but he knew someone who might. "Come to Tarrish with me," he said.
"Tarrish?" she repeated the word, obviously surprised. "Why?"
Standing, he gave her a lopsided grin. "Ginko the Sly." Vermillion, with an exaggerated motion, held out his hand to her. "Come to Tarrish with me," he offered again. "We'll find a way to get you clear."
She looked at his hand but did not move. "You don't understand what you're getting yourself into Vermillion. I am hunted, and not just by Vind or Hugh Vernon."
"Been bein' hunted by Antazos for over three years. Looks like Isabel Cavallos is about to start, too. Can't really do much about them," he shrugged. "Let's do something about yours." He glanced to his hand, then back to her face.
She stood without taking his hand and stepped further into the room, back to him, thinking. "It isn't… There aren't names for…" He could hear that she was trying to find words to say something she would rather leave unsaid, that perhaps had never been said. "What came to the Keep still hunts." Tessa turned, arms hugging herself as if she were cold depsite the warm spring afternoon. "It hunts us both. It will hunt you."
Vermillion let his hand fall with a shake of his head. Turning to lean his back against the wall, he crossed his arms over his chest. The magic of his armor and his own reflexive skill had him almost disappearing into the shadows. "Consider me warned of the danger, Tessa. It's my own choice to take it on. I am offering my sword, my skill, and whatever contacts and resources I can scare up to help stop what hunts you, to clear your name, and to regain your lands and Seat."
"In exchange for what?" She asked it bluntly, without emotion, and he could tell she had too much experience with people who wanted something.
He let the question hang in the air. Knowing it was coming, he still didn't have a real answer, not even for himself. He watched her watching him, he face unreadable. Was she wondering why he didn't have a price ready to lips? Or was she worried he was gathering courage to ask for something big or distasteful?
He looked down at his feet. "I don't know. Nothing, really." At her sound of disbelief, he looked back to her again. "No, I mean…it's…it's complicated." He took a deep breath and let it out slowly. "Obviously, my having a friend on the Council wouldn't hurt our," he gestured vaguely towards where the others in his group had left, "dealings with Sa'iph, but that's not why I am offering. I don't want political favors. I don't want money or lands." He paused, looking away.
When he spoke again, it was as much to himself as to her. "My life has been about surviving," he said slowly. "I grew up in the Warrens of Tarrish, stealing food, and trinkets to sell for food. The Guild recruited me and I work for them because surviving is easier through them. We rescued Maeva by accident and it's been a back-and-forth with Antazos since then…
"I told you I don't like bullies. Maybe I just want to help you stop yours. Maybe I think you're better than having to live the life you're living." He smiled crookedly. "Maybe I think you should get your own chocolate and stop eating mine." He seemed to run out of words.
She half-smiled at that last, but the amusement did not linger. The expression in her face and eyes was bleak. "You are just stacking up potential enemies one after another," she said softly. "When were you planning to leave?"
He almost said "Immediately" but then remembered the village was empty. "Guess I should wait for the villagers to get back," he shrugged. "Don't wanna leave the place empty and undefended."
She didn't look at him. "Jaely won't mind the chance to rest in a warm stable."
"She may be the smartest of us all," he said carefully.
Tessa snorted in disbelief. "She hasn't run away from me yet." She crossed to the bar, sorted through the bottles and took one glass, filled it, and then drained it. "I need to go check on her." She placed a silver coin on the bar, then reconsidered, added another and filled the glass again before heading to the stables.
---
Vermillion climbed on his horse and said a last farewell as Tessa climbed on Jaely. The horses were set to an easy pace since it was going to be a long ride to Tarrish anyway. He remained silent as they rode out of the village and past the outlying farms.
"Can you claim your Seat without your lands, or do we have to tackle the lands first?" he asked without preamble.
"Whoever holds the Seat has title to the lands." She kept her eyes ahead. "That is the way of the Shal Lords. You must be recognized within the circle before the right to rule will be acknowledged." Jaely's ears flicked and she patted the mare absent-mindedly.
"So without the accusations, you'd be able to walk in and sit down tomorrow, since the Seat is still considered yours?"
"Theoretically, yes." She mulled it over a bit. "I don't really want it. Neither of us does."
He glanced at her for a moment. She was mostly a kid when she left, he realized. It probably hasn't been that important while she was running. "Do you want your home back? Because in my experience, rootless vagabonds are kinda shifty."
That almost drew a smile from her, but she quickly suppressed it. "My home doesn't exist any more. The building's there – at least I assume it is, Hugh Vernon keeps sending people to die there – but what's inside it …" Her voice trailed off and her hands tightened on her reins. Jaely's ears went down.
"So, we get the League off your case, and we kill what ever's hunting you from the Keep," he said it lightly and simply, but he knew it wouldn't be that easy. It never was. "Which do you want to do first?"
Tessa scowled at the back of Jaely's head, as if it were the mare's fault she found herself in this mess. The mare rolled her eyes and tossed her head, shaking off the glare she could not even see. "The League first." The way she said it told him she did not even want to think about facing the Keep. Not yet, maybe not ever.
"This is what I was thinking that led to me offering to help. Your Seat has been vacant for a long time now, right? Somebody must have wanted to sit their ass in it by now. Who thinks they have a chance? Who really has a chance? Who is closest to getting it? One of those is probably behind the notices and the 'wanted for questioning'. But what nagged at me is that the Seat is still vacant after all this time. Maybe someone wants the A'nari's to keep their Seat. Maybe that someone will be able to help us until a priest can soothsay you and show that the notices should be removed." He was scanning the surrounding countryside as was his habit, so he couldn't see her face. "Or am I just way too politically hopeless?"
She did not answer for a long time, her silence indicating her own lack of insight. "I don't know. Even before -" She cleared her throat. "Before they were killed, I wasn't the one who would have held it next. And after – I guess there must have been talk about what to do, with both Morgan and I still children, but I don't remember anything about it." She had not wanted to remember. All she had known in the time that had followed was silence and cold. "I don't know if the Council even has a mechanism for how to deal with a vacancy when the prior holder's declared heir died at the same time."
"It's a dangerous world, they must have thought of something," he answered. "Definitely have to see Ginko."
She didn't say anything to that – didn't ask who Ginko was, or why he would have any information that might help, or what he might demand as payment. She just rode without speaking, not caring whether Vermillion made any effort to fill the silence.
Since there was not much more to say on that subject, he fell silent, occasionally scanning the distance for signs of trouble. He knew she was uncomfortable with her decision to accept his help, so he left her to her silence for the most part, hoping she might adjust at some point. A few words exchanged for breaks in travel, making camp or setting watches was all he attempted for the first few days. In his line of work, one sometimes had to be patient for the breaks in security.
Instead, he occupied himself with half-formed plans of retrieving the books from Malisis, thoughts of what could be done to take care of Antazos, speculations on what Cavallos was going to do, wondering what would have happened if he had invested in chocolate. He spent some time wondering what could possibly be in A'nari Keep, but that was fruitless and he wasn't ready to ask, and he was almost certain she wasn't ready to answer. But mostly, he thought about the potion he grabbed from the mysterious "V". He spent a lot of time at the fire in camp staring at the vial of cloudy green liquid wondering if it would work and what it would mean if it did.
Tessa finished skinning the second of the two rabbits she had caught, and put them on a spit over the fire. "Who's Ginko?" she finally asked, as if picking up the conversation from days before. She didn't comment on the potion.
The vial disappeared with a slight movement of Vermillion's hand. "Ginko the Sly is an information broker in Tarrish. His specialty is the political arena. He'll be able to let us know who's doing what with regard to the Seat and how to get the Council to stop chasing you." He looked her over. "I understand you might want to hear what he has to say yourself and even ask a question or three, but as a caution, he'll know who you are."
"I'll be information for him to broker, in other words." He could tell she didn't much care for the idea—there were too many looking for that information, and willing to pay highly for it. But she wasn't surprised by it.
"He won't go running out to tell everyone he knows, but if anyone asks something related…," he spread his hands. "I have some information that may distract him a little, though, so he won't think too much on why I'm asking about a Seat on the Council." He watched her check the rabbits, then broke off some bread for the two of them for when the food was ready.
She looked skeptical, but didn't argue with him.
---
It took her another three days to ask why he kept looking at the potion.
Vermillion stared at her across the fire for a long minute before answering. "When I was seven or eight, my father worked on the docks in Tarrish, overseeing loading and unloading cargo. There was an accident, and his brain…just…stopped working right. He has a child's mind." He looked back at the vial once more, then put it away again. "When we were waaaaay up north, we met a wyrd and she told me it would take a high order priest to restore him. When Athron said what the potion would do, I knew I had to try it. I just don't know what to expect."
Tessa stared at him, unmoving, and then looked away as if she did not want to see his pain. After a moment, she stood up to fuss with Jaely's feed-bag, and then to re-settle the blanket across the mare's back. When she returned to the fire, she did not mention it again.
That night, while she was settling in and he was getting ready for first watch, he stopped and went to one knee next to where she lay. "I haven't said it before, but I'm sorry for what you have had to go through with losing your family. I just … wanted to say it once, let you know I'm not ignoring it or trying to act like it didn't happen." He held her gaze for another moment, then started his watch.
---
The road became more crowded the closer they drew to Tarrish, and she became even more obviously silent and withdrawn. The afternoon they topped a rise and saw the distant glimmer of sea below them, and the tips of the walls, she drew Jaely to a stop and dismounted to lead the mare away from the road. She waited for Vermillion to follow, and he found her pacing back and forth nervously. One slim blade – the poisoned one – had slipped from her sleeve into her hand, the weight of it the only reassurance she had that she could protect herself. When she realized she was holding it, she cursed and resheathed it, then stood to look at him. "My name is not Tessa Carle," she said abruptly, and quickly. She needed to say it fast, or she probably would not say it at all. "My name is Iaondrin Shal A'nari. My mother named me for her mother. I am the daughter of Euricio and Lillias Shal A'nari. I am wanted by League and others, and darkness and death follow me."
He watched her, puzzled for a moment, then stepped closer to her, closer to the danger she was trying to tell him she represented. "Iaondrin," he said it softly, testing its feel in his mouth, eyes searching her face. The name seemed appropriate to him – beautiful and strong. "Are you telling me to leave? That you don't want to do this? You'd rather go back to running?" That she might say yes gave him a slightly hollow feeling in the pit of his stomach. "Just tell me to go, I'm not going to force you."
She looked at him, cocked her head as if she were trying to listen to something he could not hear. The patterns are moving, she thought. Yet she could not read them, and could not tell what counsel the threads sought to give. Her mother, perhaps, would have been able to teach her that, but there had not been enough time. "The dead are already dead, and nothing can change that. Yet there's always more to lose." She rested one hand on Jaely's neck, and the horse stepped closer when it felt the tremble in her fingers.
"Maybe it is time to stop running. Maybe, at the very least, I can draw out whoever hides in the shadows. Draw them to me, rather than to Morgan." She stopped, jaw clenching, unable to explain that her choice, whatever it was, was not just for herself. She had carried him down the mountain, in winter snow and through between, and he had run half a world away to try to find a place where he could not be hunted.
Vermillion was getting used to her saying things that only half made sense. He was beginning to suspect she was Politi trained, though he had never seen her do any magic. But Azpiri, whom he paid to ensorcel his items, sometimes spoke like that, as if he was seeing or hearing things others couldn't. Someday, he thought he might ask her about it.
Right then, however, he was more interested in searching her face for which way the "maybes" would tumble.
Iaondrin paused a moment more. Jaely stared at Vermillion with a look that said he would get used to the confusion if he hung around Iaondrin long enough. Waiting it out – waiting for her to work out the issues herself, even aloud – was all that could be done, the mare might have been thinking. Or perhaps she was simply wondering how quickly she could get into a warm stable in the city. "All right," Iaondrin said softly. "Let's go."
Breathing a sigh of relief, he remounted his horse. The thought that she might just ride away had bothered him and now he was beginning to suspect that he might have had a whole other reason for helping her that he hadn't told himself about. The thought seemed a bit preposterous to him, because she wasn't exactly inviting and had never given any indication that she would be welcoming. He thought he would just take it easy while he worked it out.
"You should stay at my apartment when we get in the city," he said suddenly. What? "There are a lot of people visiting inns and someone might recognize you." That was better.
"What kind of stables do you have?" There was a note of disgruntlement in her voice, but it wasn't any greater than was customary for her. "I don't want anything too fancy. Jaely doesn't need to be pampered, the ungrateful git." But the horse was walking with a jaunty air, and she had her head up to pull towards the city ahead.
"There's a livery two blocks or so from my place. I have two horses there already, since I usually sail wherever I need to go. Duran said they seem to know what they are doing," he told her. Vermillion remembered the exact words as something like, "They're not total fuck-ups," which was about as good as you could get from Duran when discussing others' care of horses.
She just nodded, and rode unspeaking the rest of the way, following him into the press of people jostling together on one side of the wide rode towards Tarrish, and against the flow of people leaving the city. At the walls, the people coming in were funneled through several guarded gates, where the Tarrish clerks sat ready to scribe the name of everyone who entered. She didn't give the name Tessa Carle, for Hugh Vernon knew that one, and likely the Vind she had encountered in Hinderlet. Instead, she made something else up, not even bothering to remember it. The clerk didn't even look up, just carefully scribed it down.
"That's another affront against Otori," she murmured to Jaely. "I figure you'll burn first, though, since I didn't shit in her temple." She glanced over at Vermillion. "Not yet, anyway."
To be continued.
—
DM's Note: This photograph use under Creative Commons license.