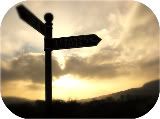 " "So what should we do with it now?" Boeden asked. They all sat in the empty common room of the Obber's Mill inn, contemplating the black-covered book with its three locks. Efforts to burn it, or cut it with their swords, had proven to be fruitless, and they were in the midst of debating their options for making sure it would never again be used. Athron had spoken with Father Hilaire, his message transmitted by prayer, to tell him that the town's residents could return, but it would be several days before they got there – and they wanted to have a plan in place before then.
"Maybe we could take it back north," Broc suggested. "To that place where all the frozen people were -"
"Yeah," Duran broke in, "the faerie frost was it?"
"Or drop it in the bottom of the ocean," Cassick added. "I'm sure if we took it out far enough, it would sink thousands of feet."
Vermillion shook his head. "Setting aside the fact that the Neridi might not like that, we've already seen that it's too fuckin' big a risk to leave it unguarded. Someone somewhere has to destroy it."
"So who do we trust with that?" Boeden looked around.
"I know people I can trust." Athron said it, knowing that it surprised none of them. "There's no one else I would care to give it to, knowing how the Sajeem's daughter wanted to use it. And I know that if they can't find a way to obliterate it, my Order will never allow it to fall into the wrong hands."