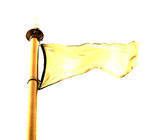 A. But First, Taking Out Some Easy Targets.
In the middle of the night, the PCs find themselves under attack by the team of brown cloaks. First, the campfire blazes up and gives off a roiling cloud of back, choking smoke, which has little effect on anyone. The PCs spread out to take on the attackers individually; although the Middle Redding horsemen make good use of trampling with their mounts, Athron "commands"at least two to move into areas threatened by his compatriots, who are able to finish them off. Within a minute, the fight is over.
B. The "Fortress".
The next day, the PCs come within sight of the makeshift "fortress" used by the Middle Redding tribes for the annual contest.