DM's Note: This continues Cassick's individual interlude and follows Crevan's arrival in Tagahir.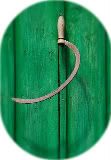 Cassick and Finnella ride into Tarrish, under the guise of a Skalding about her official business, with her body-guard. They are surprised at the appearance of Tagahir, which was always described to them as a lush farming community with abundant crops and fecund live-stock. The rough wood and barbed-wire fence is broken down in places, the fields are overgrown with weeds, and no livestock can be seen. "This isn't the bucolic paradise I imagined," Finnella murmurs.
The first few houses on the single packed dirt street look worn, and all curtains are drawn closed over the windows. The only person visible is a young woodsman leaning against the wall to one side of the door of one house. He periodically knocks, but no one answers. "Which house is the Holks'?" Cassick asks, and the young man nods to one of the silent buildings.
While the three of them chat, Crevan and Claude – fresh from their meeting with Mayor Bayard Rakoze – step out. Crevan claims to have come to Tagahir on behalf of Grandmere Margeurite. He also tells Finnella that the two young men to whom he had introduced her – Tallon and Seril – are no longer available marriage mates, to see if Cassick has any reaction to the names. The three cousins trade barbs, with just enough edge to them that Mathis, the young ranger, feels the need to make sure his bow is close to hand and ready for use. Crevan says he has no idea where Amalia is. Cassick inquires whether the family with whom Crevan is staying has additional rooms, and the four go back to the Quints.
There, Crevan mentions that he has been scouting the area for land to buy, for an agricultural venture, and the Quints – as well as their neighbors, the Lewises – seem anxious to sell and move away quickly. Cassick and Finnella inquire about the Hethin family. The Quints say that Eitri's parents are still living in the house, but when asked where Amalia could be found – so that Finnella can finish her task as a Skalding – everyone insists that they need to talk to the Mayor. They eventually disclose that Eitri is accused of killing his family, but refuse to give any other information. Finnella and Cassick leave to go to the Mayor's house.
"Don't trust those two," Crevan tells the locals. "They're dishonest – terrible people."
"Killerssss," Claude adds in an ominous hiss.
---
Back on the street, Mathis nods hard on the door and calls urgently for Margaret, the family's teenaged daughter and his sweetheart, to come out right away. "I need to talk to you about what's going on here," he tells her, insisting that she take a walk. "Where's Amalia Hethin?" Mathis asks, once they are beyond the fence, and at the edge of the woods. "Why haven't I seen either her or Eitri since I got here?"
Margaret tries to dodge the questions, but finally tells him, "It's a terrible thing. They – my parents, the mayor, everyone – say that Eitri killed her. Her and the boys as well. And left their bodies in the woods somewhere for the animals to find."
Mathis is shocked. "Come on," he tells Margaret. "I'm going to find them."
---
On the way to Rakoze's house, Finnella and Cassick pass a home where a face peers at them from around curtains on the top floor. Inside, they can hear made rambling and wailing in a woman's voice, crying for her son and for her husband. They also pass the stables, where the oxen – worn and tired, sickly and frightened looking – are gathered.
Finnella and Cassick knock on the mayor's door. He is at first outraged to have strangers on his front porch at this late hour. "Who are you?" he demands angrily, "and what business do you have here?" Finnella looks down at the Skalding's stole draped around her neck as if surprised he doesn't recognize its significance.
Cassick firmly explains, at least twice, that they are there on Skalding's business, and Finnella needs to find out what happened to Amalia in order to explain why she can't complete her task. Mayor Rakoze invites them in, and settles them down with tea. "It's a terrible thing," he sighs. "To think a father and husband could do such a thing to his wife and his sons. Oh, those sweet boys. He killed them. We've tried to get him to tell us where the bodies are, so that we can give them rest. But not even his mother's tears will sway him."
When pressed, Rakoze agrees to allow them to talk to Eitri, who has been imprisoned in a makeshift cell the villagers constructed in his own basement. Rakoze takes them downstairs and opens the thick wooden door. A thin, pale Eitri sits up. "This lady and gentleman are here to ask you about your family. Tell them what you did, Eitri." The Mayor then reluctantly returns upstairs, leaving Finnella and Cassick alone with their brother-in-law – the man accused of killing their sister and nephews.
---
Outside, Crevan and Claude search Cassick's and Finnella's saddle-bags, hunting for Cloten's missing journal or for anything that might indicate what Cassick knows of Crevan's connection to Cloten, and the team of thieves who attempted to raid the WayStation of Kalle. They find the box of garnets bearing the Arnaud family seal that Cloten had received as his cut for a theft from an Arnaud caravan, but not the journal.
They then go in search of Eitri's parents. Eitri's father, a man who looks prematurely aged, opens the door to them. Crevan spins his tale about looking for land to buy or lease, and pushes past the elder Hethin to take a seat at the kitchen table. Hethin is mildly surprised, asks them to be quiet, as his wife is sleeping upstairs.
---
Out in the woods, Mathis and Margaret stumble around as the sun sets, unable to find any tracks or signs of what might have happened to Amalia and the kids. As darkness settles in, Mathis sees something or something in the trees nearby. He pushes Margaret to the ground and circles around silently, but when it moves towards Margaret he fires an arrow – which passes right through it. The ghost starts to moan, panicking both of them, and they start running and screaming back towards the village.
---
In the Hethin residence, Crevan and Claude look at each other, obviously wondering –again – what the hell is going on in this town. Mother Hethin appears at the top of the stairs. "It's starting again," she says in a trembling voice to her husband.
"This happens often in this town?" Crevan asks conversationally.
"It is payment for our sins," Hethin answers as he stairs down at his hands folded on the table-top.
Claude crosses to the door and locks it. "I think we'll just stay right here," Crevan comments.
---
In the Mayor's house, in the basement, Cassick and Finnella hear nothing. They question Eitri, demanding that he tell them what happened to Amalia so that they can report to her family why she has apparently disappeared. "What did you do to them?" Cassick demands.
Eitri answers simply, "Whatever they say I did." Unsatisfied with the response, Cassick and Finnella continue to press him; Finnella casts Charm Person to help win him over. Eitri glances up at the ceiling several times as he tells them, "They say I killed them all," clearly wanting to cooperate but scared to speak freely.
Finnella keeps the conversation going while Cassick sneaks upstairs (as silent as the air itself, apparently, based on Giorgo's rolls) and finds the Mayor pressed to the floor directly above Eitri's cell, a sickle in his hand. Cassick moves without sound across the floor and saps the Mayor, who rolls, swings, catches the edge of Cassick's pants leg, but is swiftly beaten into unconsciousness.
Finnella brings Eitri upstairs. "Is there anyone else we need to worry about?" Cassick asks. Eitri tells him that Menno, the dwarven blacksmith, is a close friend of the Mayor's but he doesn't know how involved he is in what's "going on here in town."
"And what is that?" Finnella demands impatiently.
Eitri's expression is grim. "Our parents don't tell us while we're growing up the price for Tagahir's abundance. Children, every five years. My sister, apparently, when I was young, freely given over by my mother. And this year, they wanted my sons." He looks like he wants to kick the Mayor where he lies. "But I took them to caves, in the woods. My father – if he has kept his word – has been taking them food, checking on them. But my mother … my mother wants me to hand them over."
---
Outside on the street, more and more ghosts appear, all wailing. Mathis and Margaret head for the hay-loft in the stables to hide, where Mathis watches one ghostly figure, with eerie child-like laughter, spook the oxen into a frenzy. Down the street, a stock dwarf appears, strapping on his armor, warhammer in hand. "Bayard!" he yells out, without looking at the Mayor's house, "Get your ass out here! They're back!" He waits at the front stockade for the ethereal shapes to approach him, and swings almost casually, dissipating each one he strikes. Other ghosts take up stations on various porches, staring at the front doors, waiting.
"I suppose we need to ride right past those things," Cassick asks, and Eitri nods. "Good thing we can do it unseen," he winks at his sister, and both of them take advantage of their cloaks of invisibility. With Eitri concealed under his with him, Cassick leads Finnella out on their horses at a gallop past the dwarf.
Outside, the crazy raving woman from across the street comes out to confront the largest ghost, welcoming it as her husband and opening her arms to embrace it. It moves forward, enveloping her, and then her body falls to the street. Watching from their window, Father Hethin says to his wife, "You should go to our daughter." Weeping, she nods, opens the door and steps out. He then closes the door and locks it behind her.
Crevan, from the other window, watches the apparently riderless horses of Cassick and Finnella speed by. "I hope these things don't hold things personally against outsiders," he muses. "Good thing I have a potion of invisibility."
"Me, too!" Claude responds almost cheerily. They pull out the vials, tink them together, and drink. Before long, the other Arnaud cousin and his bodyguard are on their way out of town. Crevan thinks, as he rides out, that perhaps afterwards, when all the dust has settled, it might be useful to loot what was left behind.
Mathis and Margaret watch, horrified, as the ghosts exact their payment from the adults who allowed the children to be sacrificed to Varaz. "We should leave," Mathis whispers urgently. But Margaret insists that they can't just leave the other children. "We'll come back, I promise. They aren't going into any of the houses, they're just waiting for the parents," he doesn't add, 'your parents' "to come out." He tries to calculate in his head – as a distraction from the ghosts below – how many children that will leave him in charge of.
---
Eitri leads Finnella and Cassick to the caves, where they find a dirty, worn, and tired-looking Amalia and her sons. But she is thrilled to see them, and ecstatic at the idea of returning home. "I wanted to be a farm-wife," she tells her brother and sister, "but these people were just crazy."
On the ride back to the Arnaud holdings, Cassick realizes that someone searched his saddle-bags while he was in the Mayor's house, and the box of garnets is missing. Hours ahead of them on the road, Crevan and Claude ride faster, to carry the news of Amalia's apparent murder at Eitri's hands to their family.
DM's Notes: Inspired by Jonathan Walls' Peaceful Silence. This photograph used under Creative Commons license.