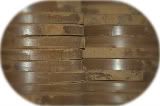 After the conclusion of the Middle Redding Autumn Conclave, Vermillion rode back south towards Tarrish, with the two horses that he claimed from the Middle Redding clans. He cut southeast towards the main rode running between Tarrish and the East Redding in the north. Giving his name at the gates, he waited patiently in the lines to enter the city, and then reported at at the Nightsong Guild.
Heroz, busy as alays testing locks and traps, welcomed him back. She asked for a report on what happened in Halveet, accepting without question that he left some things out. "We've gotten a number of inquiries from merchants there on Laibrook's recommendation," she told him.
"That's rum, that is. I get a bonus?" My crooked smile shows that I don't expect one.
"You'll get an extra piece of stale bread from the Guild kitchens with your breakfast." She flashes a white-toothed grin in her dark face, then holds up a hand to indicate you should wait as she triggers the model lock in a wooden frame on her work-table. There is a click, then a pause – and nothing. "Damn, there was supposed to be some flame. Something to just singe the students' fingertips."
"Glad I'm not a student anymore," I muse. "I'm gonna get cleaned up and go see the abbess at the Veil."
"Paying your tithe, eh?" She smiles again. "Oh, wait – Kaz asked that when you show up again, if you're free, would you entertain the thought of a trip to Darilei?" The question surprises you – you didn't know anyone at the Nightsong Guild had business that far west.
"Unless you have a job for me here. Where do I find him?"
"There's always work to be done, but Kaz seldom makes a special request. He said you could find him at the Chattering Ass in the northwest quadrant."
"At least my ass will be comfortable on a ship. Saddles can be a real life pain in the ass." I go clean up, then book passage on a ship on my way to the Veil.
As you suspected, finding passage to Darilei is no problem – the furthest west of the League cities, it is on the regular routes. You can get a departue time whenever you want. And at the Veil, you can ask for your usual.
Packing is easy since my stuff is still together. I stop at Sariel's to see if the store has any items that would make me harder to hit, and leave with a much lighter purse and a shiny new ring, on my way to Darilei.
There are intermediate stops along the way, in Halveet (you wonder briefly if Boeden is there) and Malisis before finally reaching Darilei. The process of disembarking is the same here as in any League city – the bureaucracy is much the same in any of the cities.
Once cleared, you ask for directions to the Chattering Ass, whose sign is illustrated by a mule with its ears laid back and teeth bared. You get a room, and order a meal in the common room where the talk is all about a recent trial. "The Chatterton Six," you overhear several people mention.
I turn to the closest person. "Excuse me, but I have just arrived i the city. What was the trial about?" [Gather Information roll of 17]
"You haven't heard?" The woman twists in her seat. You can see her hands are calloused, well-used to work, or you imagine the use of the shortsword at her waist. "Chatteron is – or was – northwest of Darilei, the biggest town in the unclaimed lands between Darilei and Seldez."
"Not unclaimed now," one of her companions interrupts.
She nods. "Aye. Between League forces and Seldeze soldiers – the Six supported Seldez, or just wanted the city to stay independent."
"They're going to hang in the League now," someone else cuts in.
"Sounds no better than Torei on the other fu – er, other side of the League."
"Not much," the woman agrees before turning back to her companions.
When you are halfway through your meal, you finally see Kaz come through the front door. His eyes scan the common room twice, though you know he sees you the first time. He crosses to the bar for a quick mug, chats with a few people, and then heads up the steps to the rooms.
I finish eating then head up after him to see what he needs from me.
The door to a room is only slightly ajar, and you duck in, knowing Kaz left it that way for you. The shades inside are drawn, but enough light enters for you to see him. "Vermillion. Good to see you, boy."
"Yeah, 's been a while. Lot of jobs recently, for both of us. So waddya need?"
"Someone to help watch my back on a job for a client who needs help from someone not local." Something about the tone of his voice tells you a hint of his tension. "Not our damned city here, but I had a chit called in."
"All right, what's the job?"
"You been here long enough to hear about the Chatterton Six?"
"Just long enough as it happens," I shrug.
They got a lawyer – not easy to find one in this town to represent them – but they got one. And he's got a problem. The kind that he can't solve with the locals, 'cause most of 'em are, as you might imagine, very pro-Darilei. So before we go any further with this, I gotta know how nervous it makes you to work for somebody whose takin' what some might see as an anti-League position. Not that we're going to be advertisin' our involvement."
I don't answer for several moments, scratching my chin slowly while I think. "Well," I say finally, "I work for the Guild and there will always be folk who need fuckin' shit returned to them, right?"
"There's always folks misplacin' their shit," Kaz agrees with a quick grin. He reaches into an inner pocket of his jacket and pulls out a small leather sack. "I told 'im to put it in cash. Half now, half when the job is done." He drops the sack in your hand. "That's 200 platinum there. Gilford comes from money, so he can afford it. Somebody's bugged his office." Another hand into another pocket and he places a cracked gem – perhaps once an emerald – on the table. "Not 100% sure what it did, but I figure probably some sort of scryin' or listenin' spell."
"Seems a little unfair. What's he need?"
"He needs to find out who did it. There were three visitors the day it was placed – he's had somebody check the office every day since the trial started, so he thinks he knows roughly when it got there. And there's a secretary – he didn't want to put her on the list, but she's on mine anyway. So I'm thinkin' it's a little bit of surveilling and a little bit of breaking and entering."
I look at the list he gives me as if the names matter to me. "Where do you want me to start?"
The first name on the list in Kaz's scrawl is Elena Cavendish, the secretary. Next is Michael Strawley, a merchant who, Kaz tells you, is looking to break into the import of a hot new commodity, chocolate. "Not that Gilford told me that, confidentiality for his clients and all." Next is Lawrence Becker, "a wealthy man with a pretty new wife, several adult children, and a need I imagine to re-write his will. Not that Gilford told me that, either." And the last, a new client, Tessa Carle.
"I've done an intiial cope since I got here two days ago. The secretary and the new client are my first choices. The first because she's workin' class, probably in need of extra coin, and if it were me I'd want an insider. I'll stick with her and the guy with the trophy wife. The merchant and the new client are yours."
"An idea where I can find 'em? Since you've been here longer than me."
"Strawley's trading house offices are on Earle Street, and he has an office on the docks as well." He sketches quick outline of the major streets so you can see where Earle falls,and gives you directions to the offices on the dock. "Carle's staying at an inn, The Sleeping Steward. She keeps a chestnut mare and a bay stallion in the stables. Shal, with auburn hair and blue eyes, and a stern personality."
"It's nice workin' with a bloody professional again. Guess I'll go scout out the scenes."
---
The stretch of Earle where Strawley's main offices are located consists of a series of 2- and 3-story buildings, each with a plaque by or sign above the door. There are a few shops to service the traders and their staff, and you figure some of the buildings may also hold apartments for those who can't afford a separate residence. Strawley's building shares a wall with another on the right, and an alley to the left leads to a wider alley in the back that runs parallel to Earle. At this hour, past dinner-time, most of the foot traffic is people leaving for the night._
I walk into the offices of Strawley Imports, hoping to catch someone who is hoping to head home for the day. "Excuse me, but could i speak to Master Strawley?" I take a good look around the offices.
A young clerk with ink-stained fingertips is in the process of shrugging on his jacket. There are three desks in this main area, and a short hallway leading back with a door on either side. The papers are neatly organized. "Er, not right now. Can I help you?" he asks reluctantly.
I look him up and down for a moment. "Can you make business decisions for the company?"
"Can I?" He is surprised by the question. "Er, no. No, I can't. But … I can make an appointment if you would like."
"Hmm," I purse my lips in thought, starting to pace the room, glancing down the hall to see what I can spot. "Is he perhaps at the offices at the docks?"
"Er, uh, maybe." He is obviously anxious to be gone. At the front of the hall, you can see the door to the right leads to a file room, probably windowless as it shares a wall with the building next door. The door to the left has stairs up and down, to the basement and the upper floor.
"Well, unfortunately, I won't be in the city long. I was really hoping for some chocolate while I was here."
"Chocolate? Are you interested in investing in Master Strawley's venture?" He shows the first real interest in speaking with you. "We have some samples – just small ones," he holds up his hand, a small space between his thumb and forefinger, "for interested investors. It's really – sir, there are no words."
"I think I would like a small taste, yes," I muse, nodding. And I realize I do. What's all the fuckin' fuss about? I wonder.
The clerk introduces himelf as Eric as he fishes a set of keys out of a locked desk drawer. "Wait here." He holds up one finger, already half-smiling, as if anticipating your reaction. He hurries down the hallway and through the door to teh right, into the fileroom. You are left alone while he rummages through something in the file room.
I amble around the room, weaving through the desks, doing a quick scan of what's on top of the neat stacks, never pausing for more than a moment.
The papers seem to be carefully organized by account – for each investor – or by shipment, sometimes with cross-references to one another. One of the folders contains a ledger for a proposed investment in the chocolate trade, with a list of committed partners and a running balance for how many additional investors are required. You don't find (not that you expected it to be so easy) a document referring to a need to bug Allenel Gilford's office.
"How many floors do your offices take up?" I call out curiously.
"Here? Oh, just this floor here." his voice is coming closer, giving you warning enough to step back into the middle of the room. Eric places a small wooden box on the desk and opens it to remove two foil-wrapped squares, half an inch on a side. "One is more sweet, with a higher butterfat content." You can tell he has practiced his speech as he rattles on about the product. He opens the two samples, one a very dark color, the other a lighter brown. "People are going wild for this – it's just starting to hit the market. Go ahead, try."
I try both samples, on eat a time, marvelling at the flavor. It almost makes me wish I really had the knowledge to become a merchant – this stuff will probably sell very well. "Where can I buy more of this around here?"
Eric's smile is sudden, and you can tell the idea of arranging a sale – any sale – it exciting to him. "Master Strawley has a supply and is seeking to expand his operations. Shall I make an appointment with him for you? Or you could try at the docks – he might not have left yet… or …" He thinks. "Perhaps at Fender's Pub." He's anxious not to let the fish slip from the hook.
"Fender's Pub you say? I'll take a look there. Maybe buy him a drink so he spills all his secrets about chocolate," I grin in jest.
"Ha!" Eric's laugh is genuine, with just a hint of nervousness. "He's likely to be there about an hour after dinner, and then for a couple of hours you should be able to catch him in that time-frame." He shrugs his jacket back on. "Hopefully we'll be doing business together."
"If Otori wills it," I agree. "Thanks for your help." I head out and go down to the docks to look around the office there.
Even at this hour the docks are busy – you suspect they are around the clock. One shift of workers leaves and another comes on. Ships arrive and leave, and crews of tax inspectors, stevedores and longshoremen scurry about. Strawley's dock offices are likewise busy, a striking contrast with the quiet main offices in the city. People go in and out, and it is easy enough for you to slip in among them.
The office is one wide open area, with desks and file cabinets, and a large temporary storage area in the back, for goods that can't be moved immediately.
My first thoughts are that this guy has no vested interest in the Chatterton Six. I'm not a political or mercantile mind, but I can't see how stopping the League's advance in the northwest – or ensuring punishment for those who tried to do that – benefits Strawley. Or how the outcome of the trial would affect his business. I head to Fender's Pub, buy Strawley a quick drink, and arrange to buy some chocolate from him.
You find Strawley to be a friendly, out-going young man, which probably explains the growing success of his business. He agrees to sell you a pound of chocolate. He also tries to give you a hard sell to invest in a caravan to the south to bring in more.
I beg off, but tell him I will arrange to buy more when he gets back. Then I head to the Sleeping Steward to see if this Tessa Carle is around.
[to be continued]
DM's Note: This photograph used under Creative Commons license.