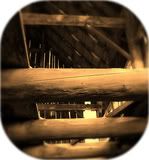 As he worked his way towards Azpiri's shop, Vermillion reflected on whether he understood Safford's words correctly. A master key for all gates? Could someone really have that? Or was there something else going on with the Helve-Bense-Wyndham and back connection the mad mage mentioned. Iaondrin's father seemed to know about these things – did he figure out something like that could be done and that's why the Vershrikking was sent? He would have to get a copy of his treatise and find out. He snorted to himself. He would have to get a copy to Azpiri or Ellinden So and they would have to find out.
The mage's shop was comparatively busy this afternoon – when Vermillion arrived, he found two customers ahead of him, one searching through the shelves with Azpiri's apprentice trailing behind and another at the counter negotiating the price of a ring with Azpiri himself. Azpiri finished up the negotiations with a "I am sorry, I am not interested in those terms," and a polite brush-off, before turning to Vermillion. A glance was enough to tell him that the conversation to follow was one best conducted in private, and with a gesture to his apprentice to mind the shop, he turned to lead the way upstairs to his study where he waved his visitor to a chair.
"So, that mage who protected Locopo's children? Turns out he let part of that Vershrikking inside him and it tried to unmake him, so the things he told me will probably sound strange," Vermillion began once seated. "It seems the thing can be sent much more precisely than it was for Locopo. It doesn't have to wipe out a whole House or family. Which, of course, makes me wonder if there are others we don't know about because they weren't slaughters."
Azpiri steepled his fingers together and leaned back into his armchair to consider what Vermillion had told him. "If so, I am unsure how one could go about uncovering the non-massacres. Were the imprecise attacks deliberately so? Or simply a reflection of trial-and-error?" He winced slightly when he heard his own words spoken aloud. "If you report our conversation to later, find a more graceful way to phrase that."
"I will try," Vermillion acceded. "But that is what I am thinking happened. It's been awhile since Locopo and Ginevra. So either whoever is doing it hasn't found anyone else they needed to try to slaughter or they learned to target better." He held up one finger. "There is some good news, though. The … Weaving? … is as dangerous to the one using it as the one being targeted. Apparently, if I understand the mad mage rightly, that line about the payment and the price for the Vershrikking seems to mean it will devour either the target or the caller, whichever is faster for it to get to."
"All the more reason to find out who is behind it then. Though that would still leave open the question of how you communicate with it." He smiled slightly, without any humor. "It doesn't seem you could simply offer it a map and a letter of introduction."
"Someone," Vermillion said pointedly, "would have to risk unmaking to talk to it. That is how that mage saved the children and wife of Locopo." He wondered how long he would be able to keep Safford's name out of it. Though he trusted Azpiri, and to a slightly lesser extent, Lady So, he wasn't sure who might decide there should be some experimentation to learn more about this, and he didn't want to make it easier. After a sip of tea and a pause to gather his thoughts, Vermillion went on. "Well, it seems Locopo had figured out… So, I understand what you said earlier about gates, but do you think there could be any possible way for someone to be able to get into any gate at anytime?"
Azpiri's eyebrows went up, and the corners of his mouth down, in an expression of skepticism. "It isn't my area of expertise, as you know, but my understand is no – those houses or institutions that have them don't want someone to be able to slip through their back door any time they fancy." He stroked his bearded chin, then sighed. "Then again, until you and your lady presented me with your conundrum, I didn't think it was possible to call this …" He waggled his fingers "Vershrikking. Every conversation I have with you about this reminds me how ignorant I am."
"How ignorant you are? I'm a glorified filcher from the Warrens." Vermillion shook his head slowly. "He said 'they had puzzled it out'. From Helve to Bense to Wyndham. And Wyndham to Bense to Helve. And everywhere in between. When I asked for more, he said … 'where the… errant? threads lay that can be pulled to make a master key'? Something about cloaks. Does that make any sense? Trigger any thoughts?"
"You think it has something to do with gates? That may make sense, in light of what Iaondrin says happened at the Keep – the gate opening in the middle of the night, without warning." Azpiri leaned his head back and stared up at the ceiling. "Threads, of course, always mean something to Politi. Fili intrecciati insieme. A cloak? It doesn't mean anything in particular to me in this context, though. Perhaps a metaphor for …" He looked at Vermillion. "If he was talking about gates, and a way to use them without the owners' knowledge or cooperation, then perhaps his key is a way to pass the wardings put up around them." Azpiri shrugged. "But that is just speculation based on what a glorified filcher tells me a madman said about his conversation with a creature that shouldn't exist in the first place."
Vermillion couldn't help but chuckle ruefully at Azpiri's assessment of the situation. "Well, at the least, Locopo was killed because he knew something someone didn't want him to know. Almost everything else…," he shrugged. "But we have to start somewhere. And all this has made me think we might want to find a copy of things Euricio Shal A'nari wrote. Or, rather, you may want to. I'm fairly sure I wouldn't understand it. He was good at creating items, he figured out how to trap this thing. He may have figured out something someone didn't want him to and that's why it was sent."
"I don't have any of his writings …" His voice trailed off and he sat up straight. "That book your lady found too dear has an index -" He closed his eyes, trying to remember the title, and then snapped his fingers as it came to him. "Wait here." Azpiri sprang to his feet and crossed to the stairs to disappear downstairs. In moments he was back, holding the leather-bound book in one hand. "Collected Knowledge of Magical Portals. I think I told her it was a difficult text – difficult for me, likely impossible for her. Not that I would put it in those words, lest I turn to find her holding a stiletto."
"I had forgotten about that book," Vermillion said. "I will leave you to browse it for any information that might help." He got up and moved towards the door, then paused and turned back. "How difficult would it be to get another stone for Iaondrin's necklace? So we could talk to someone else if we need to?" He didn't know how Iaondrin would take to the idea, but it might be beneficial to be able to talk to Ellinden So without waiting for a Skalding to get there and back.
Azpiri had already sat and opened the book, and barely glanced up at the question. "I still have the other pieces." He left unsaid that he had kept them, just in case. "It will take a few days to work the spell for it — she will need to bring back the master stone."
Deciding that trying to write the letter for Lady So at the Skaldings' offices would take too long, Bryan went home. He needed to start making dinner and also to tell Iaondrin what he had learned. If he had really learned anything from the almost unmade Safford.
---
Iaondrin stood on the back patio, a small plate in one hand, frowning down at the fish, and the single dead eye that stared back up at her. Its cold gaze was not the most appealing thing to look at first thing in the morning. Then, she looked at the stone wall and frowned some more. She had already put the plate down twice, with a clink of pewter against stone, and then second-guessed herself and turned back to pick it up again. "It's not like it's going to sit there and rot," she murmured to herself. The cat would come and take it, she knew, well before the summer heat made it stink. But maybe that wasn't the best thing, it would just keep coming back every day.
"Damn it," Iaondrin whispered, and turned back towards the door to take the plate back inside. She set the plate on the table, and then took a chair to pull Azpiri's instruction nook across to her. Resting her chin in her hands, she frowned down at the open page, trying hard to ignore the fish. Maybe Bryan could figure out something to do with it, before it turned completely. Maybe a fish stew. "I don't want fish stew," she said aloud. "It's too hot for stew."
Bryan came back from running some errands as Iaondrin sat staring at the book. He set the sack on the counter and went about putting things away — a loaf of bread, a jar of jam, a wedge of cheese. There wasn't much for him to do for the rest of the day, though he knew it was time to start changing their sleeping patterns — staying up later at night, sleeping later in the morning — since they were going to have to start staying out at the barn.
Iaondrin rubbed her eyes and stifled a yawn. She hadn't slept well the night before, pondering what Bryan had learned from Safford, and perhaps that was why she couldn't concentrate on her studies for thought of the fish. It lay there on the plate, without purpose. There would be no stew, she had known that when she bought it. Why had she gotten the damned thing in the first place? Her brows drew together and she glared at it. Maybe she could have it delivered to Marzio Shal Saraiva – the thought of him wondering what message she intended to send, with the delivery of a fish that was just this short of turning permanently for the bad, almost amused her.
Almost. Except for that dead cold eye staring up at the ceiling, accusingly.
When the knock came at the door – sudden, expected, now that a day or more had passed since the last installation of the iron – she half-expected the fish to shift on the plate to look at the entrance, hopeful that someone would come in to liberate it. "They can't have the fish," she muttered almost spitefully.
"Why don't you just give it to the cat?" he asked with a small smile and glance out of the corner of his eyes to her as he moved to the door. Bryan thought it better than pointing out that any guest would be highly unlikely to be showing up to confiscate the fish.
"The cat?" She stopped as he opened the door to a slim young woman with shoulder-length curly brown hair and merry brown eyes and a skald's insignia on her tunic. "I can't give him the fish," Iaondrin added, "he's feral."
The young woman raised one eyebrow. "If you feed him, he'll keep coming back," she finished the thought, and Bryan could almost feel Iaondrin's frown from across the room. Another figure stood two paces behind the skald, close-cropped hair and a level assessing gaze. The girl watched Vermillion's eyes move from her to the man, and though the corner of her mouth curled in a smile, there was something not entirely pleased in the way she refused to look back. "I told him not to lurk. I hate knowing he's watching from somewhere I can't see him." Manton's own expression did not change; it was one of infinite patience. "I am Janne So. You must be the street rat from the Warrens."
Vernillion's puzzled frown at the young Shal woman's appearance and words gave way to a look of surprise at the appearance of Ellinden So's Evandin on his doorstep, and that was quickly followed by a nod of understanding when Janne So introduced herself. He drew himself up in feigned haughtiness, "That is 'guttersnipe' from the Warrens."
"Oh, forgive me." Janne put on a look of mock mortification at her mistake. "I must have the wrong house – I was looking for the street rat. No," she tapped her chin, as if trying to remember the instruction better, "it was guttersnipe. Imagine how embarrassed I would have been if I had ended up bothering the wrong person." She peered around Vermillion into the room and did a slight double-take at the way Iaondrin first glared at her, and then looked down at the book, studiously ignoring her. "Or, perhaps, bothering the correct person," she added in a lower voice.
"Yes, well, come on in. Both of you. Don't worry, the house is watched over," this last he offered to Manton. "Shake the road from you, and I'll get you something to drink. Tea? Wine?"
"I assumed it was," Manton answered. "Anything cold will be fine." He let Janne step inside first and glanced around the front room. She, in turn, dropped her backpack and took a seat at the far end of the table from Iaondrin. Iaondrin herself frowned mightily at the book and turned a page that she hadn't actually read.
"And that must be the fish," Janne commented to no one in particular. She leaned forward to pull the plate towards her and sniff. "Just a bit smelly now. I can put it outside if you'd like." The offer was friendly, but Iaondrin's eyes narrowed and Janne pushed the plate away again. "But I can understand if you don't want to domesticate a feral cat," the young skald added, with a glance towards Manton that said, "help me out here." Her mother's Evandin just leaned one shoulder against a wall and folded his arms over his chest without comment.
Vermillion stifled a chuckle. It looked like Janne wasn't told what exactly to expect and Iaondrin was giving her the full treatment. Instead, he moved to get some goblets and wine. "It's a little tough to do cold in Tarrish in the middle of summer," he apologized.
Janne deliberately moved her eyes from Manton to Vermillion and then to Iaondrin and back again, and her expression clearly said that apparently it was all too easy to do cold in Tarrish in the middle of summer. She opened her mouth, about to try again with Iaondrin, and then thought better of it. Instead, she thanked Vermillion for the wine, sipped it, waited for Manton to say something, and then sighed when he continued to be just as uncooperative. "So, as I said, I am Janne. You know the fellow playing my bodyguard this week …"
Her voice trailed off as Iaondrin stood, picked up both book and plate, and stalked outside to the back patio. She left the door close behind her, but from the windows they could see that she sat both herself and the plate onto the bench. Janne blew out her cheeks, then looked back to Vermillion. "Well then, I suppose we – I mean, I – should just talk to you then?" From the way she said it, it was obvious she wasn't used to being given such a cold shoulder – most people would at least pretend to be pleased to have Ellinden So's daughter visit them.
"Vermillion, and you'd be talking to me even if Iaondrin were in the room with us," he admitted. "Try not to take it personally. Your presence here is just a reminder that the thing that's been trying to kill her for eighteen years is coming back to try again soon. Plus, she didn't treat you any different than she treated your mother, so you have that going for you."
Janne frowned slightly, and then after a moment shrugged. "Well at least she's honest about how she feels about me. Even if it is in a non-communicative glaring sort of way." She grinned, and with that change of expression Vermillion could tell she wasn't the sort to let herself be troubled by very much for very long. She leaned back in the chair, and crossed one leg over the other. "I've been told that I'm to watch, and to do whatever you tell me. He," she jerked a head towards Manton, "is here to make sure I follow instructions.
"I could probably leave it at that, and just tell you to send a message to me at my inn when you're ready for us. But I am a skald, and you have some interesting tales to tell, and I'm not entirely polite enough to just sit back and wait to be summoned." Her eyes danced with interest as she said it. "You can, of course, tell me to mind my own business. In fact, I realize she has done exactly that already. And I won't take it personally."
Outside, Iaondrin sat with the book open in her lap. The long, lean form of the brindled tom slunk along the length of the stone wall. He stopped directly opposite her to settle down with his front paws pressed together. His tail curled lazy patterns in the air, and his eyes narrowed as he fixed his gaze on the plate of fish several feet away. Iaondrin frowned again at the book, trying to ignore him, and he calculated the likelihood of being able to snatch the food without needing to sink teeth or claw into her.
"I have tales to tell?" Vermillion was surprised. He had been just trying to stay alive, hadn't thought that would give rise to "tales". Shaking his head, "No, I don't think so." The more he thought about it, the more he thought there were some things that shouldn't be let out into the public either.
Janne laughed, and looked at him as if trying to figure out whether he was deliberately putting her on. "Setting aside the whole A'nari heir returning from more than a decade hiding – and that whole business with the heads in the Aihv'," she glanced outside again, where the cat was now pretending to ignore Iaondrin and the fish just as thoroughly as she was pretending to ignore the cat, "which I take it she wouldn't want you to talk about even if you were willing, wasn't there a dragon? And massive numbers of undead?"
" Yes, there was a dragon, " he allowed with a few nods of his head, " but that's not something I can elaborate on much. There are too many things that happened that would put too many people in danger. And Palderton, " he visibly suppressed a shiver, "I don't think me being terrified is much of a story."
"I'm sure I could make it quite entertaining," Janne said easily. "It could be a tale of exciting suspense, shambling horror. I'm not sure where the humor would come in, though." Her voice, light and cheerful, carried through the open windows to the back patio, and Vermillion could see Iaondrin's shoulders tense. He could imagine her coming back into the house to hurl the book at the oblivious young skalding. " Perhaps something to do with the Jotunn, " she mused. "He struck me as the sort who could play that role. Oh-" She sat forward, reminded to mention, " my mother wanted you to know that Boeden Narwin passed through Sutton right before we left to barter some information. "
"Humor?" Vermillion asked, seeing only the horror of what happened. He glanced to Manton briefly, then back to Janne. "You do understand that only about twenty people out of the whole town of Palderton survived?"
Janne opened her mouth and then snapped it shut, and shifted uncomfortably in her chair. Behind her, only the faintest hint of a smile, humorless as it was, touched Manton's face, and in that moment Vermillion could realize something Janne herself perhaps only suspected – that Janne was being watched by the Evandin in more ways than one, and that though he would protect her from any physical harm, he would take no mercy on her when she tripped over her own tongue.
Janne cleared her throat, and at least displayed the good grace to not try to brush the misstep aside. "I'm sorry. That was … that was wrong." The apology was sincere, as was her embarrassment.
"See, the thing about these tales, they involve a lot of blood and death, so when you're in the middle of them, they don't feel much like epics." Vermillion shrugged as if the moment was over. "Anything else, though, I'll talk about. Such as the fact that I'm fairly sure that Boden couldn't offer your mother any information she didn't already have."
"Really? He said … he told her about "wiki-content-link-not-found">_Content Not Found: Isabel_. Behind Palderton." Janne glanced around, as if unsure whether she should speak it aloud. She looked at Vermillion, and then twisted in her chair to stare at Manton. "You mean she already knew?" She turned back to Vermillion. "You had already told her?" She sat back in her chair again and shook her head. "Well I suppose that's typical of her, not to mention it."
Vermillion glanced at Manton again, this time a bit knowingly. "Maybe your mother thinks there are some things you need to learn for yourself. Like there are some people who don't care that your name is So," he offered with a jerk of his head towards the back door. He stood, moved to put together a plate of bread, cheese and fruit. "Don't press her," he cautioned in a low voice as he worked. " We spent our first two weeks together saying nothing more than whether we should camp in one place or another. "
Janne nodded soberly, and reached out to grab a blackberry. "I'll try not to come between her and the fish." Outside, the cat had abandoned its pretense of disinterest and had crept to the edge of the wall to hang its head low, haunches up in the air, trying to determine whether it could leap far enough to land on the plate and dash away with the fish before Iaondrin realized what it was up to. Janne looked back to Vermillion. "I lied before. I really don't understand what's up with the fish."
Vermillion looked to the back, tilting his head to one side as he tried to gauge how much might be talking out of turn. "She's still struggling with putting down roots," he said finally. He knew the closer it came to facing the Vershrikking again, the more Iaondrin would want to run, and the more… prickly she would probably become as she fought that now unwanted urge.
Janne's brows drew together, and she watched the stand-off between Iaondrin and the cat for a few seconds. "She's afraid the cat will be too dependent on her?" She said it softly, so the words would not carry. Outside, the rangy brindled tom pulled his lips back in a soundless, hungry snarl.
Manton shifted weight again. "She is the cat," he finally said, just as softly, and then looked at Vermillion with a smile in his eyes. "Which, I suppose, makes you the fish."
"I…," Vermillion had never thought of it that way. "I suppose I am, though I think Iaondrin is more comfortable, now, relying on me than she is comfortable with the cat relying on her." He shrugged, letting that part of the conversation go as well, deciding that was all he needed to say on the subject. "So, did your mother send any of the information I asked for with you?"
"Yes. She first asked if I wanted to try to memorize it, like an epic poem or something. But I told her that a list of business investments and political fallings out was not something I could easily get right." Janne held one hand out to Manton without looking at him. The movement was peremptory, supercilious, but the twinkle in her eye said it was a jest. "So she had me write it down instead." The packet Manton handed to her was thick, and Janne hefted it in her palm as if weighing it. "It was … quite detailed."
Vermillion sighed, feeling a little deflated. That was going to be a lot of things, actually people, to check. "I can see that," he answered, holding his hand out. "Though it will be easier to check other information if I don't have to wait for you to recite everything."
Both Vermillion and Manton caught the movement outside on the patio, and thus were not surprised when Iaondrin yanked open the back door. Janne, however, jerked in her seat, and half-turned with a worried expression on her face. "You should tell him everything we've learned," she told Vermillion, with a jerk of her head towards Manton. Then she turned her eyes on the Evandin. "And then you can ask her if any of it means something to her. What might be important in that." Outside, the cat had its back-end into the air, ready to leap for the fish.
"I'm sorry… what?" Vermillion was obviously confused by his Lady's words. "We just sent the Skalding…" But Iaondrin had spoken to Manton… the Evandin. His eyes turned to Manton speculatively. "You can talk to Lady So," it wasn't exactly a question.
Manton held Iaondrin's gaze, not answering. In the silence that stretched out between them, Janne moved in her seat, and said, "I know he can sometimes, when they're near-"
"He can whenever he wants," Iaondrin broke in, without looking at her, "from wherever he wants. He is her Oath-bound. It's part of the position." From the way Janne's mouth dropped open, Vermillion could tell it was news to her — but that gape of surprise was replaced by an expression of dawning realization, a sudden understanding of something that had confused her for many years. And then, annoyance that she had not been told earlier.
"It is not something usually spoken of outside Politi," Manton said evenly. When Iaondrin raised one eyebrow and tilted her head to one side as if to say, do you really think I care? he almost smiled. "But it is not wholly unknown outside the Order either."
"Bugger me," Vermillion whispered. Especially since it suddenly seemed to make more sense about the bond. But also because he wondered what hell Lewes was subjected to with Safford's thoughts. "It's not like I'm going to spread it around," Vermillion assured Manton after a moment, "but this does help things a bit." He turned to Iaondrin. "Is it like the spell or the stones?"
"As far as I know, there is no time limit." She still had not looked away from Manton, as if she wanted to see whether he would contradict her, and if she could tell whether he lied. When he gave a slight shake of his head, she nodded. "Good. Then you can take all the time that you need." There was a clatter behind her, of pewter tumbling down to strike stone, and a low satisfied growl as the cat leap back onto the wall with the fish firmly clenched between its teeth. Iaondrin drew in a deep breath through her nose, and then released it slowly, and the brindle tom settled down to his meal, half snarling with each chew, to warn her off trying to retrieve it.
Vermillion turned back to Manton, Janne almost forgotten. "I talked to the mage who saved Locopo's children. This thing got into him, tried to unmake him, unmake his pattern. Locopo knew a secret. He figured out…" he held out his hands to stop himself rambling. No time limit. "There's a Skalding coming with a letter that has all I learned. But to get the thoughts of a Dominta as soon as I can, that could be helpful. Are you willing to play the part of a glorified messenger?"
"It would not be the first time." Manton gave one more glance at Iaondrin, but she just let the door swing shut behind her again as she returned to the back patio. The cat picked up the fish and moved further down the wall, growling a warning for her not to approach. Janne, perhaps sensing she had become mostly irrelevant, stood to refill her wine glass.
Vermillion related what he seemed to have learned from Safford. "There's a Politi mage the Guild works with sometimes, and he doesn't think it's possible to open a gate without the specific key, but then he had to admit he didn't think this Vershrikking could exist, either."
Manton was silent for a moment, with a distance in his gaze, and then spoke. The voice was his, but the intonation was not. "We had thought the gate was incidental. Locopo's house did not have one, and of course there was none on the ship where Ginevra was killed. Only the attack on the A'nari involved the use of a gate."
He paused, eyes dropping downward as he … or she … thought more about what Vermillion had said. "Gate design is a highly specialized area of study … If such a universal key were engineered, that would be very valuable information." There was an edge in Manton's voice, from either him or Ellinden. Vermillion could imagine that immediately after this conversation ended, she would turn to a minute examination of Sutton's own gateway.
"The A'nari studied them, as did Ginevra. Milon did not, he lacked the intellect, but he and Ginevra were closely allied. They studied together for a time when they were young—" Manton stopped, the break in the sentence abrupt. Janne stopped in mid-motion of lifting her wineglass to her lips, and when Manton looked up again the girl spread her hands in a gesture that urged him to continue. Whether the hesitation was his or Ellinden So's was unclear.
"What?" was all Vermillion could think to say.
"She knows something," Janne answered Vermillion. "Or she thinks she might. And she-" Janne frowned slightly and cocked her head. "She doesn't want to tell you." On the patio outside, Iaondrin turned her head to listen; the book lay on the bench next to her, disregarded. "You – she -" Janne shook her head, trying to straighten out who she was talking to when she addressed Manton.
Vermillion nodded slowly. " I realize that as the Lady of Sutton and a voice of reason trying to hold the Council together, there are times when you have to keep information to yourself to keep things under control. " Shaking his head, he added, "This is not one of those times."
Manton waited lifted his eyes from the floor, to look past both Vermillion and Janne. "I am not certain whether I read too much into it. But when she was a girl, Grazia was fostered with Josepha Shal Veanna's family in Malisis. Ginevra taught there for a time."
"So there is a connection between Ginevra, Locopo, and Iaondrin's aunt through the Veanna's?" Vermillion tilted his head to one side, thinking. "But Safford said they had puzzled it out, from Helve to Bense to Wyndham and Wyndham to Bense to Helve. Why those three cities? Or was that just the madness poking through?" At the very least, though, he might have to go talk to Josepha Veanna at some point.
Manton shook his head slightly, and the movement was not his own. "I cannot say. Isidro's family is from Wyndham. He knew Josepha as well, but … that is speculation. It is all too easy to try to force a meaning from a pattern you do not yet understand."
"Right, right, don't jump to conclusions. At least I have someone I can ask more questions of. Hopefully someone not mad. Thank you for your time, my Lady."
An inclination of the head, and the slightest shift in Manton's posture followed. Still, Janne peered at him suspiciously, a silent question as to whether her mother still listened. "I would ask whether you are still relaying everything to her," she said, "but I am not sure I would believe you if you said no." The Evandin's slight shrug of indifference to her distrust displeased her, but she let the issue drop.
"Thank you for that," Vermillion said to Manton. He imagined it must be weird to let someone else speak through you like that. "Would you like to take a walk out to where I'll be fighting this thing?"
"I would." He glanced out the window, and then looked at Vermillion to ask, without speaking, whether Iaondrin would care to join them. Either way, Vermillion knew, Janne would – both so that Manton could continue to watch her, and so that she could be told where she would observe, when the hunt came.
Vermillion nodded and rose easily, moving to the back door. "Cara mia, we are going to the barn to see the lay of the land. Would you like to take a walk with us?"
The cat, belly mostly full, had settled down to gnaw at the remains of the fish, with a low satisfied rumble a constant accompaniment to its meal. "Do I have to talk to anyone?" Iaondrin asked. She sat with her arms crossed, closed up, unfriendly; she knew that Janne and Manton could hear her, but did not care.
"You don't have to talk to anyone. But, you know, Manton talks less than my father anyway," he offered. "And we haven't seen what Gerald and the Guild managed to put together yet. It'd be better not to be surprised."
She thought about it, and then nodded. "Should Saraiva be invited?" She stood up, and with the movement, the cat froze and its growl deepened. "Oh shush," she sighed. "There will be no getting rid of it now."
Vermillion just shrugged about the cat, letting Iaondrin come to terms with it on her own. "We probably should send someone for Saraiva. Are you sure you'll be able to ignore him, too?" he teased.
---
Saraiva turned out to know both Janne and Manton. Though the Evandin was about as talkative as Vermillion predicted, Saraiva and Janne kept a running conversation going, and for a while Iaondrin worried that she wouldn't be able to tune out their voices. But after a bit, the two walked separately and kept their easy-going and sometimes bawdy banter between the two of them.
The barn had been almost rebuilt from a distance, but closer, just the rotted boards had been replaced. Inside, pellets of the "ironwater" they had discovered hurt the hunters had been put up in nets, release ropes run to where Vermillion would make his stand. Flasks of that tarry substance known as Alchemist's Fire had been placed at strategic locations, so in a pinch, the whole barn could be set ablaze and collapsed on whatever was left inside.
The stall where Vermillion would fight had been cleaned up and narrowed better than with the hasty broken boards from a few months ago. Where he had had to make do with muddy water to make the ice last time, now there was a shallow stone depression that would hold the water better, making it even more slippery. Sunrods had already been placed around the walls.
"They did a good job," Vermillion remarked to no one in particular.
Iaondrin said nothing, as he had expected. Manton's inspection was thorough, and in the end, he nodded at Vermillion's assessment. Janne gave the building a once over, and then stood with her hands on her hips to look up at the broken roof. "I take it you didn't ask to have all the massive holes patched? So where are we going to wait?" Saraiva had pulled a flask from a hidden pocket and took a swig while waiting for Vermillion's response.
"Up there," Vermillion motioned towards the beams of the now totally non-existent second floor, "in the back." He fixed his stare on Lady So's daughter. "And you will not take any actions against these things, no matter what. Do you understand?"
Janne rolled her eyes at him and gave a sigh. For a moment, it seemed she might argue with him, just for the sake of arguing, but a sideways glance at Manton was enough to quell whatever protest she might have made. "What if one crawls up there?"
"I vote we leave it for your guard to take care of," Saraiva answered, tipping his flask in Manton's direction. "After all, what good are they if you can't let them take the rending and evisceration on your behalf?"
"Can they climb?" Manton asked, looking first to Vermillion and then to Iaondrin.
"There has been no indication that they actually climb," Vermillion replied, but he knew that sounded somehow evasive. "They don't need to actually cross the space to get where they want to go." Grimacing, he shook his head, not liking that as an explanation. "Short teleport," he finally settled on. "Iaondrin says that somehow, the main thing learns, and the next hunt will be different or bigger, but it didn't rely on skill as much as numbers and speed last time. I can only plan on it trying mostly the same thing this time." Vermillion shrugged, spread his hands. "As for one 'crawling up there', it attacks the one it was sent after, unless someone else gets in the way.
" The general plan we're using, since it worked last time, is Iaondrin marks me with her pattern to make it come after me. I lured it here, " Vermillion gestured to the broken stall, "so it couldn't use numbers or speed against me, and it had to deal with keeping its balance on the ice. Iaondrin tried several alchemical concoctions on it while I fought it with my sword. Cold iron and sunlight seem to be its weaknesses. It can suppress any magic it touches and any magic that touches it. And weapons have to hit it hard to hurt it. But what I've just told you, may only apply to the parts it sends out to hunt. I have no idea what the main creature can do."
"I wonder how quickly I can have cold iron plate armor made?" Saraiva mused. "Of course, we will need a rope and pulley to then lift me up to the rafters." He did not seem to notice how Iaondrin's eyes turned towards him without her head moving, but Vermillion could imagine her wondering what prior experience the young man had with rope and pulley systems. "Well," he added cheerfully, leaving his fanciful idea for another day, "I for one make a solemn promise to let all of you die without lifting a finger to interfere."
"I'm glad to know we can rely on you," Janne said drily.
A dull hiss was the only warning Saraiva had before the point of Vermillion's sword was at his throat, the dull gray refusing to reflect any of the light in the barn. A bare second later, Vermillion relaxed his arm, dropping the point. "That burst of fear you felt just then, that's the smallest bit of what you will feel when it comes." He paused to let that sink in, than added, "Maybe you should remember what this thing has done before you jest about it."
Saraiva held himself very still while the sword was up, gaze fixed on Vermillion's face. Janne jerked, and almost moved, but Manton lifted one hand to stop her. When the blade dropped, Saraiva smiled slightly, but the humor did not wholly reach his dark eyes. "Do you want to school me on fear, Vermillion?" He lowered his voice, conspiratorial, or perhaps seductive. "Could you use a whip when you do it?"
A soft, humorless chuckle was Vermillion's response. "I'd hazard a guess that you don't fear the whip, from your tone. And in the end, I don't care what you feel." He turned away dismissively. "My own partner will be there," he gestured with the sword to where Kaz would stay, "in case I need to use this rope to get up there," now his sword touched the rope he would use to get to the rafters if there was a problem in the stall. "Iaondrin flies around up there because even though I will be giving off the strongest… 'scent', the hunters might still be able to sense her if she leaves." The desire to see her just fly away when the Hunt came was still strong in him, but he knew it would be a bad risk. "Once we're in here, it just becomes a hack fest."
"Unless it learned something last time." Manton looked like he was ready to shimmy up the rope to examine the barn from that perspective, but he stayed on solid ground.
"Which you won't know for sure until you test it again," Janne added. "So do we have an appointment? Or do we just wait?"
"In a couple days, we'll be spending all our nights here. From before sun down until after the sun peeks over the horizon," Vermillion explained. "The thing doesn't like sunlight, and that's the only way to be sure no one else gets hurt." He suddenly wondered if he should have asked Safford or Lewes if there was a way they could send a message if or when Safford sensed the thing hunting again. "Iaondrin and I'll be starting to adjust our sleeping habits tonight."
"I can manage to stay awake all night," Saraiva noted to no one in particular, and then angled his elbow out to offer it to Janne. "Especially with the right company." Then he looked at Manton with raised eyebrows. "Unless-?"
Janne grinned merrily. "He doesn't safeguard my virtue, Marzio."
Saraiva continued to look at Manton for a moment, and then chuckled as he turned his gaze back to her. "Oh, my dear, you misunderstand. I was about to ask him to join us." He had relaxed again, the edge of tension from Vermillion's challenge faded away, and slipped back into the easy-going demeanor he had displayed earlier. The Evandin, for his part, gave no response to the invitation, but simply led the way out of the barn.
Vermillion took a few more moments, turning slowly to look everything over again. His arm shook, twisted slightly, as if to loosen itself for a fight of its own accord. The Evandin's last words gave voice to something that had been troubling him since the last fight. How much had the Vershrikking learned, and what would that mean for the Hunters? Would there be more of the Hounds? Would they be faster? Would there be less, but slower and stronger? The unknowns bothered him, but there was nothing he could do until it showed up.
To be continued.
---
DM's Note: "This photograph": http://www.flickr.com/photos/paul_cullen/375168087/ used under a Creative Commons license.