This is the fire.
He crouched by the campfire, forearms braced on his knees, hands folded together, and studied the flames. They were low, a curling dance of orange and red, and the smell of the woodsmoke was strong in his nose. This the life and the breath. If he were to unfold his hands, turn his wrists, the threads would come to him. Slowly though, reluctantly, for even those unwoven could taste the taint in his blood, could feel the cold that had sunk into his bones. The effort of weaving them together would be difficult, because his patterns were broken and had been for many years. Or, the mage could crouch here for hours, held still in the space between heart-beats, and listen for the hum of unmaking. For he could also pull his hands apart, and a ribbon of grey could stretch between them in a thin sliver that would gape, a maw hungry for what had been woven.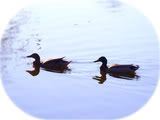 Like the woman who sat to his right and ten feet away, eating her stew and trying to pretend she was not uneasy. She was always uneasy, and not just because of the message they had picked up in Chade, or the thought of returning to Tarrish. Though she could not hear or see the threads (she was blind to half the world around her, like so many were), even she was left uneasy by the taint and the cold. As if she knew, could sense, had dreamed, that the grey ribbon hungered to open up around her and swallow her whole, that it whispered to him in a way the threads used to whisper to him, of what it wanted. Her name, weave her name. But he did not, would not even speak it. He thought of her only as the woman with scars, for that might keep her safe from the thing that left her uneasy.

The other man, though … He stood, quiet and contained within himself, looking outward from the camp, feet braced apart. That one could hear the threads, and even weave them some, and he knew what the woman did not recognize. The silver chains both men wore around their necks bound them together, and was, they both realized, all that held the mage on this side of of the maw. When the mage could not hold back against the whispers any longer, that bond would pull them both into the void.
He still retained enough of himself (though less and less every year) for the thought of it to pain him.
---
In the days that followed their return to Tarrish, Iaondrin tried to settle again into the routine that had been almost-established before they left. It was not easy, though, counting the days that passed while waiting for … for what? For more information from McCluskey, or something from Tallentire or Ellinden So, or a report from Allenel Gilford of what he had been able to glean from the public records that might still remain of her parents' business dealings. The mornings when Gerald appeared to supervise the installation of the ironwork over windows and doors were a relief from her brooding, for then she could direct her scowls at workmen. On the final morning, as Gerald was inspecting the biggest piece, that would go over the front door, she retreated to the garden in the rear. She had left most of its tending to Bryan, her few attempts at nurturing plants having led to somewhat disastrous results, but she could sit on a bench, book balanced on her knee, and tune out the hammering going on at the front. By now, she had even learned to stop scrutizing the surrounding streets, walls, and rooftops in an effort to find whatever Guildsman might be standing watch that day. "Might not even be one," she muttered to herself. Not with Gerald and the workmen (all of whom had been vetted carefully by the Nightsong Guild, she was sure) there.
For lack of anyone else to be surly with, she scowled at a brindle cat, a large and well-muscled tom, that was perched atop the rear garden wall, staring intently into the plants crowding the garden. It had been about the past few weeks, seen darting around after whatever rodents might be there, or trotting off proudly with a starling or two, and hadn't turned its nose up at the occasional bit of fish set out for him. "Have you been vetted?" she asked, eyes narrowing suspiciously. The cat ignored her, intent on whatever prey it saw at the bottom of the wall, behind the tomato plants.
Bryan didn't even bother trying the front while they were still working. He and Iaondrin had taken to spending their time in the back, and sure enough, that was where he found her after his time at the Guild. He had been trying his hand at teaching new recruits since his "elevation" within the organization, but he was finding it more difficult than he thought it would be. It appeared a lot of his skills came more naturally to him than others, and he didn't know how to explain them to others. He gained a new appreciation for Kaz, Heroz, and the others.
It was a nice evening, so even after they said so long to Gerald and before they headed out for dinner, they sat quietly in the back. That was, until someone wearing Tallentire's livery peeked around the corner and said, "Oh, there you are."
Iaondrin glanced over and then away, scowling again. "Is that a question?" She had to assume that someone from the Guild had stopped the man on his way in. "Did someone stop and search you on your way in, or should we just kill you and get it out of the way?" She wasn't sure quite why the man's appearance annoyed her so — his expression wasn't really all that smug, and they had been expecting him after all.
"Oh yes," he answered easily. "I asked if they wanted to do a full cavity search, but no one would accommodate my request. Pity, really. Now I'll have to pay for it at one of the brothels — I don't suppose you could recommend one?" When Iaondrin kept her eyes fixed on the far wall of the garden, glaring at a brindle cat, he shrugged and looked at Vermillion questioningly.
Vermillion let his sword slip quietly back into its scabbard as he sized the man up. "Depends on how much you want to spend," he answered with a shrug. "As you probably know, I'm Vermillion, and this is Iaondrin. But you'll mostly be talking to me of the two of us."
The man's eyes glanced back at her, and the corner of one mouth quirked in a touch of a smile. "I was told that the Lady doesn't care much for social intercourse." He stepped forward, dropped a bag from one shoulder, and gave a deep bow. " I am Marzio Shal Saraiva."
"How much did he tell you about what's going on here?" There was no reason for Vermillion to start explaining things he didn't need to.
"As much as he thought I needed to know, I imagine." Saraiva glanced around for a seat and then, finding none, leaned one shoulder against the garden wall. "I am here for two functions — one, to observe what you tell me to observe and two, to deliver information that he was directed to gather for your use." The cat stood, stretched, and walked along the top of the wall towards Saraiva to stare down at his head, as if contemplating an attack. "I am to follow your and the Lady's direction, and not make a nuisance of myself."
Vermillion nodded slowly. "Well, you've only got a few more nights of freedom before we need to start watching for what you are to observe. Your days will be free, though." Bryan figured he and Iaondrin would just move their sleeping to the day until the Vershrikking came, but with the daylight lasting longer in the summer, they would still have some time free together. "And I'll take that information as soon as you can get it to me."
Saraiva pushed himself off the wall to cross back to his bag. The cat settled down again, disappointed that it had missed its chance to leap at the man, and watched through narrowed eyes as Saraiva walked back to hand Vermillion a sealed envelope. "It is spelled to reveal its contents only to the two of you," he said. "I was told you would want to know why, lest you decide to burn it first."
"Well, we did ask for the information, so I'm not sure we would have burned it first," Vermillion answered, taking the envelope. "Have you found an inn yet? Eaten anything?" By habit, he ran his fingers around the envelope and gauged how much was in it.
Iaondrin scowled down at the book she held open on her lap. That last question sounded entirely too much like a prelude to an invitation of some sort. She contemplated an elbow in Vermillion's ribs, to head off any such nonsense, and hoped that if he felt the need to be solicitous of their visitor, Saraiva at least would have the good sense to remember her aversion to "social intercourse." She looked up at the cat, whose gaze remained narrowed and whose tail was twitching slowly back and forth; the animal seemed even less inclined to welcome a lingering guest.
"Not yet," Saraiva answered. "I was asked to come directly to you, and not to dally."
"The Bell and Bucket, just south of the center of the city on Main Street. I think the cross is Tupelo's Way. If I figgered a servant of Tallentire right, it should have everything you want." Decent food, music, gambling, companionship and rooms all at a reasonable price. "Except the meditation room." Vermillion studiously ignored the look he knew was on his Lady's face.
Saraiva gave another bow and picked up his bag again. He tipped an imaginary hat to the cat. "Send word when you want me." He did not wait for a response, but simply turned and walked out, whistling to himself.
Iaondrin did not look up while he went, and waited until the sound of whistling was out of earshot before speaking again. "Meditation room?" She did not look at the envelope in Vermillion's hands except from the corner of her eye — it looked to contain perhaps only one sheet.
Bryan found himself frowning down at the envelope. He had been hoping for a thicker packet of paper. He turned the paper around several times, feeling the edges with his fingers easily, almost unconsciously. After a grimace, he said, "Well, how many dealings could your family have had all the way across the League in Helve?" He tore open the envelope and shook out the parchments inside.
It was, in fact, but one sheet, and at first it seemed to be filled with little more than the type of overly courteous platitudes that had filled many notes sent to the Lady A'nari by those seeking to curry her favor. But with Bryan's touch, the script began to twist upon itself to reform the words in lines that scrolled up or down, depending upon where Bryan directed his eyes — thus one sheet could contain more information than might be suspected at first glance.
Tallentire did not trouble himself with prefatory statements or explanations, but provided a well-organized narrative of the connections between Ginevra and Locopo (including their families back two generations), and how any joint business interests (legitimate and under-the-table) extended westward from Helve through the League. As Bryan's eyes scanned downwards in search of any mention of the A'nari, the text scrolled up and off the top of the page, and by the time he realized he had seen a name he recognized the word had already disappeared. Moving back up, however, caused the script to reform again, a paragraph reassembling itself.
… prior to the formal declaration of hostilities between Seldez and Darilei, Ginevra and Locopo were among a small coalition of non-League investors in trade with Seldez, along with Gaston Desmarais of Bense and Lazare Hoalino of Wyndham …
It was but a passing mention, followed by a brief statement of how the investments had been lost as a result of the war, with no further elaboration. A quick scan of the remainder of the document confirmed there was no mention of the A'nari, nor of Lillias's family. Just that single, unremarked mention of "Hoalino" – the surname of Morgan's father, Isidro – slipped in with no commentary by Tallentire.
"There's a link," Bryan said absently, tilting the paper towards Iaondrin so she could read the passage. "Ginevra and Locopo were in business with someone from Morgan's father's family." He made a face, not sure what to make of it yet.
"Lazare." Iaondrin's voice was flat when she read the name, and she sat back again without taking the page. Atop the wall, the tomcat yawned and settled his chin upon his front paws.
"Doesn't sound like you thought too highly of him," he observed.
"He took in Morgan after – Well, after." She frowned down at her book, obviously not reading it. "Morgan didn't stay there any longer than he had to. I don't know him well myself, but …" She shrugged. "Morgan didn't like him."
Bryan filed away the information, deciding to ask Morgan about it at some point in the future. "Ready for dinner?"
---
The next day, as Vermillion left the Guild following another session with the newest recruits, a boy stopped him at the bottom of the steps. "There's a gentleman as wants to see you, sir. Or," the lad cocked his head to one side, "as says you asked to see him, but says p'raps you might want to see him first along afore. That …" he stammered, trying to remember the right words, and then looked at Vermillion apologetically. "Said last time he came 'ere," he nodded at the building, "it caused a bit of a consternation."
Vermillion frowned as he tried to follow the boy's explanation. When he figured out what was going on, he brightened noticeably. "Where are they? Is he?" he asked, holding out a silver coin for the messenger.
"'E said as you'd find 'im at the park off Elgin Street. 'E said 'is friend likes to feed the ducks in the pond."
"Thanks," Vermillion offered before striding off to the park. Part of him felt a little bad at the treatment the three had been given when they last met, since he now knew it was the work of a madman, but more of him felt justified in his annoyance at the time. At the park, he found them and moved openly up to Lewes. "Thanks for coming."
Lewes sat on a stone bench, legs stretched out and crossed at the ankles. About eighty feet away, Safford squatted at the edge of a pond tearing bits of bread off a loaf and tossing them into the water. The scar-faced woman stood about halfway between, angled to watch both men. "It was his decision."
"It would have to be, wouldn't it?" Vermillion's eyes flicked to the silver necklace around Lewes' neck. "What did he do to it? At Locopo's?"
Lewes did not answer immediately, just kept his grey eyes on his charge, the mage to whom he had bound himself. "He deflected it only." His eyes flicked to Vermillion and then away again. "A moment or more. Enough time for it to spin out a sliver of <between> into him and try to unmake him. At least that is how I understand it." He shrugged. "If you want more than that, you will have to ask him. I can try to translate, but I can't guarantee that the answer will make any sense." He paused, and then added in a low voice. "I wasn't there."
Vermillion was mildly surprised at that, but reflected there was a lot he did not know about Politi and Evandins. "I think I understand that much. I've learned a lot about <between> in the past few months. When the first people found Locopo's wife and children and Safford, they couldn't hear, could they?"
"Not for weeks afterward. But it was different for him than for the Lady Cerise." By the pond, Safford shifted, standing, and although Lewes did not visibly react, Vermillion could sense a change, as if he had suddenly tensed ever-so-slightly, readying himself to move. The scar-faced woman glanced back at them, and then moved to follow the mage as he moved further down the edge of the water to stoop and toss more bread out in an arc.
The moment passed, and Lewes continued. "He hears … things. Echoes."
Vermillion nodded slowly. "Has anyone tried to do anything for him?" It wasn't a given, as Iaondrin had pointed out there was no grand fellowship of Politi.
"His House was wiped out. And those who were willing, for their own reasons, found the risk too great."
"Wait, his House was wiped out, too?" What the fuck is going on?
Lewes frowned slightly and, for the first time during the discussion, turned to look directly at Vermillion. "He belonged to Locopo's house. We both did." The fingertips of one hand brushed against the silver chain. "He studied with Locopo's father, and stayed once the son took the title."
Vermillion blinked once, processing the information. "I was told Safford was a guest at Locopo's." He tried to recall where he had heard it. "The report from the Libraries, which could have been wrong in the retelling…," but what had Tallentire said on the subject?
"He did not often stay there anymore, and only infrequently visited." Lewes left it at that, but Vermillion could sense a weight of something heavy behind the statement. "Do you want to talk with him?"
"Depends on how clear he is at the moment. But I also want to know if you can think of any connections between Locopo, or Ginevra, and the A'nari? Because the same thing wiped out all three Houses."
Lewes looked away again, back to the woman, Rawn, and then further to Safford. He was silent for several moments, thinking, and then shook his head. "He is as lucid now as he ever is. Every day you wait—" He stopped, biting off the words, and leaned forward to brace his forearms against his knees. He looked away from Vermillion, back towards the man crouched by the pond. "Locopo and Ginevra had many dealings. I myself do not know of any where the two together dealt with the A'nari. The Lady Cerise was a distant cousin of your lady's mother, but there were — and are — many convoluted family connections among the Shal nobles at that level. He," Lewes nodded towards Safford, "may know more. I … did not spend much time in Helve once Milon took over."
"If you think of anything else, I'd appreciate hearing it. Someone sent this thing to wipe out all three Houses, so any connection could lead me to the one who did it.." Behind his words were malice and grim intent for whoever thought the Vershrikking was a good idea. "Let's go talk to Safford," Vermillion said to Lewes, and added to himself, to see if I can find a way to keep from going insane, too.
"Ask your most important questions first. The longer it takes, the less … focused … he will be." Lewes stood, and with a motion of one hand indicated that Vermillion should allow him to go first. Safford had asked for the meeting and — he knew — had been waiting for the approach. Still, Lewes wanted to put himself between the mage and the Lady A'nari's man. A nod to Rawn, and she shifted her own position, still standing aside but watchful of them all. He stopped a few steps short of where Safford still crouched, and spoke in Shal. "L'uomo è qui, il mio amico. Ha domande per voi circa la Dominti." The man is here, my friend. He has questions for you about the Dominti. "Parla per la donna con i capelli rossi." He speaks for the woman with red hair. It was a circuitous way of speaking, without any names, and something about the care with which Lewes phrased the introduction made it apparent that the omission was deliberate.
Vermillion tilted his head to the side, thinking, as Lewes spoke. "'A name was its price, its payment'", he quoted the words from the bare hint of information they had found at the Library. "The Eeplings call it the Vershrikking von Stilte und Shadu, and I need to know what you did that it got into you. It's coming back soon, and I need all the information I can get."
Safford did not answer immediately, though he did stand and put his hands on his hips to look out over the pond. "Eeplings," he murmured. "What is that … Vershrikking von Stilte und Shadu?" The words were stiff in his mouth, not fluid as they had been when Inbal Cierda had read them aloud. He half turned his head, eyes directed downward. "A name they gave it? It doesn't want a name for itself. Names give form, give pattern. It is formless, patternless, and pleased to be so." He stopped, cocked his head as if listening. "It doesn't like to hunt. The hunt forces it into form. But it has to track the patterns and undo them, before it can withdraw, the pattern that called it, or the pattern it was called to devour. Either one will do, it doesn't care, whichever is faster."
He lifted one hand, and with the movement both Jameson Lewes and Rawn Markey shifted weight almost imperceptibly. Their reaction caused him to grin widely, a flash of white teeth in the tangle of his beard. But when he turned more fully, his eyes held no humor. "You smell like her," he continued, nose wrinkling in a sniff. "She marked you, even though you are not of the pattern, to deceive it, lead it astray, take it off course. Milon marked the children, as well, though they were not his." The mage stopped again, some memory passing over his face, and he glanced at Lewes. The Evandin himself held the madman's gaze for a moment or more before looking away. "You see," Safford tapped one fingertip against his lips in a gesture of thought, "it needed to know they were not of that pattern."
Vermillion understood much of what Safford had said, and that made him briefly wonder if he were already going mad. But the last several words did not seem to make sense with what he had been led to believe. His eyes flicked to Lewes and back as he asked, "Milon was your Dominti? And it wasn't sent for him?"
"Oh, it was." Safford's dark eyes glittered in his face. "For his, and his own, root and branch. Except there was no branch, that was what I whispered to it, here," this time he tapped his temple, hard. "He …" He waved his other hand towards Lewes, "he did not want me to go. But I was there, to be unmade, so it would know …" His voice trailed off, and he held himself still, trying to catch the thread of his thoughts again. "So it would know it could leave them."
Vermillion turned his gaze to Lewes again as Safford spoke. A slight frown creased his forehead before several pieces clicked into place and a look of understanding crossed his features. He turned back to the mad mage. "So can you think of anyone who wanted or needed Milon and all those of his line out of the way?"
"He had enemies, as does everyone in his position. I think, though, the target was broader than needed. Ill-directed, ill-aimed, scattershot." Safford pressed his fingertips against his lips and frowned, concentrating hard to keep himself focused, and the words might have been about himself. "Because he knew … he knew … they had puzzled it out together." His dark eyes moved to Lewes, whose own gaze had fixed on the mage in surprise. "I whispered to it, but it whispered back to me, you see," Safford said softly. "The one who called it could not direct it finely, only … broadly. Against Milon, because he knew … they had puzzled it out … the map of it. From Helve to Bense to Wyndham, from Wyndham to Bense to Helve, and to every one in between." His hands shook, and he lowered them, and something shifted in his face, behind his eyes, as if something else looked out at them.
"A sledgehammer's blow, where a stiletto would have sufficed." His voice was low, silky, menacing, and when his hands moved apart, a sliver of silver began to open up, a twist of ice in the summer air. "It can be so … precise … if directed properly."
Even as Vermillion took a step back and dropped into a defensive crouch, hand on his sword, he snapped, "Safford!" to draw the mage's attention back to who he was. "I've seen it work, I don't need a demonstration." The words felt a little silly in his mouth, but he had to try something to keep from having to hurt a man not in control of his faculties.
The mage stopped, and the shivering grey gaped open no further. Lewes took one step sideways, to place himself between Safford and Vermillion, with trust that whatever else the mage might do, he would not harm his own Evandin. "Siate attenti, amico mio," he said softly, and continued to speak in low tones until Safford closed his hands together and the cold disappeared. Lewes looked back over his shoulder at Vermillion, waiting for the next question, but kept himself positioned between the two.
"Last question for now, then you can go back to feeding the ducks. What did they puzzle out?" He didn't expect an answer, at least one he would understand, but maybe a hint, a whiff, would get him where he needed to go eventually.
"Where the errant threads lay, that you can grasp," Safford pinched thumb and forefinger together, "and yank free, to unravel the cloak, to undo the veil." His eyes lost focus momentarily, and he looked around, perhaps wondering where the ducks had gone. "A master key, as it were," he murmured, "to every door from Helve to Wyndham to Bense, Bense to Wyndham to Helve, back again, and each one between." He stopped and pressed the heels of his hands to eyes, as if fighting off a sudden headache.
"It's all right, Safford. We're done for now. I just need to talk to your Evandin another couple minutes. Thanks for your help." To himself, he repeated Safford's words, trying to press them to his memory so he could tell Azpiri and Lady So. If he understood correctly, there was a big problem with the gates. Vermillion took a few steps away, back towards the bench. "If I can find a way to help him, I'll let you know," he offered sincerely.
Lewes waited, watching Safford rub his face and then turn away to consider the pond, where the ducks had swum away from the edge during their conversation. A gesture of the hand and Rawn Markey, with a frown to rival Iaondrin's, moved closer to the madman, the stiffness in her shoulders indicating how little she liked getting nearer to him. "I do not think he can be remade." Lewes turned and followed Vermillion away, back towards the bench, though he did not resume his seat. "It has been too many years, and it has unraveled him, little by little."
"That may be true. But it may not be true. I have seen some weird shit so far, so it isn't out of the realm of possibility." Vermillion
shrugged. "I admit it's a big 'if'. Is the Vind the best way to keep in contact with you?"
"There is no other place to leave a message for us." He turned to look back at Safford, who had crouched down again, drawing the ducks to him. "We will be leaving Tarrish tonight. If this hunt, as you call it, comes soon, I do not want him near it." Then one corner of his mouth curled. "I suppose I still cling to some hope."
Vermillion nodded in understanding. "As I said, I'll be looking into any information I can find on this thing, and if some of it points to a way to help him, I'll let you know. Thanks again for coming, and thank him for me."
Lewes nodded, and added, "I doubt it will matter to him. His memory of the conversation will come and go." From his tone, Vermillion could tell he was uncertain whether that was a mercy or not.
To be continued.
---
DM's Note: This photograph modified under Creative Commons license.