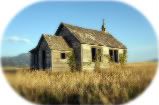 "At some point, Eitri," Bayard Rakoze, Mayor of Tagahir said tiredly before he closed the heavy wooden door for the night, "you will tell us what you did with your wife and boys. You know it's the right thing to do." But the younger man simply looked back him, the same way he had done for the past five months, without answering, and with a sigh Bayard closed the door and locked it.
After hauling himself back up the stairs to his kitchen, he hung the iron key on a hook in his kitchen and contemplated, for a moment, how he had come to have a cell – the village's only "jail" – constructed in his basement. It had been a hard five months, hard on all of them, the shock of Amalia's and the twins' disappearance, Eitri's firm refusal to account for them, even in the face of his mother's tearful pleas. And what had come after … the ghosts, wailing their mournful moans … No one would tend their fields, and the oxen – never able to rest – were wasting away.
Even now, Bayard could hear the first echoes coming towards the village again. He stepped out on the front porch of his house and considered the dusty street, the worn homes, and the dark dark woods beyond. Somewhere in his house, Menno the blacksmith would be strapping on his armor again, lifting his warhammer again, and Bayard himself would prepare to stand with his old friend to beat back the spectral wraiths that haunted the town. For a couple of days, at least, until they came again.
Tomorrow morning, he would once again go into the cellar, in hopes of convincing Eitri to reveal his secret. Without it, there could be no rest for any of them – the hauntings had to be connected to Amalia and the twins, he knew, somehow. And somewhere, out in the woods, the young woman and her sons were hidden.
"Well this is quite a shithole," Crevan remarked to Claude as they pulled their horses to a stop on a rise east of Tagahir. He had expected … more. After all, the village was known for the abundance of its crops, and the fruitfulness of its livestock. Amalia herself had extolled the place as a bucolic paradise where she would happily live as a farmer's fecund wife. But this … this looked like a place about to crumble to pieces. The rough wooden and barbed-wire fence was broken in places, fields to the south looked like they hadn't been tilled for months, and no oxen or cattle could be seen.
The village didn't improve upon closer inspection. As he and Claude rode down into the village, Crevan could sense eyes peeking at them from behind closed drapes, but no one stepped out to greet them. Was Cassick behind one of those windows? Crevan wondered. Judith, a servant in the house of Cassick's mother, had sent word that a letter had arrived, promising a visit to check on Amalia, and Crevan and Claude had ridden fast and hard, to try to beat his cousin to the village. Had they succeeded, or was Cassick even now drawing aim? Was it a trap?
A trap it was not, he confirmed quickly enough. There was no tavern or inn where he could get the local gossip, but a knock on one wooden door and a friendly smile to the man who opened it – Farmer Quint, and his nervous wife – was enough to confirm that there had been no outside visitors to the town for some while now. Why yes, the Quints had rooms to let to Vance D'arnaud and his guard, Guy. And, oh my, they represented an investor who was interested in purchasing some of the rich farmland around Tagahir to grow his own … crops? Oh, yes yes, the Quints would be interested, and please, let's invite over their friends the Lewisis to talk …
The two families were tripping over themselves to offer their land that Crevan almost felt compelled to actually take advantage of them. "Curious place," Claude murmured at one point the next day, as they paused by the stables to consider the trembling, anxious oxen. "You think we could get them to pay us to take the land off their hands?" Claude nodded towards the fields beyond. "It don't look like much, with the weeds growning and all, but I bet we could get a good crop going here. Lest there's some sort of weird curse going on that we don't know about."
Crevan nodded. "Maybe." He counted it as a bonus that Amalia hadn't shown her face, and he had carefully avoided the Hethin residence 'til now, just to make sure she wouldn't be in a position to warn Cassick when he finally arrived. He wanted to see how his cousin would react at seeing Crevan unexpectedly – perhaps something could be learned about how much Cassick knew, from even a momentarily unguarded reaction.
---
Another leisurely walk, and a friendly nod to some woodsman leaning against the wall on the Edwards' front porch, periodically knocking on the door. The boy was sniffing after some bint in the house, Crevan had caught onto that quickly, and he could feel the archer watching them as they continued down the street. When the tall bearded man with greying hair waved them over to his front porch, Crevan pasted the friendliest smile possible onto his face. "Has to be the Mayor," he remarked to Claude. The Quints and Lewises had warned them about Bayard Rakoze, about how he would not be happy to hear what Vance D'arnaud was up to.
"I'm Bayard Rakoze, Mayor of Tagahir," the man huffed unnecessarily, and paused while Crevan gave him a deep and respectful bow. "I hear tale the two of you," he indicated Claude with a curt nod, "have been asking folk to sell their land? We're just a small town here, and we don't like strangers coming in, thinking to set themselves up amongst us."
"Of course not," Crevan answered smoothly, "nor would our principal care to disrupt the local community." To his left, Claude shifted slightly, to put just a little bit more room between himself and Crevan. If trouble was coming, they didn't want to be tripping over each other. "We are simply inquiring on behalf of an investor, who would not even necessarily visit the town at all – why, he probably would want the locals, who know the land, to continue to work on it…"
Bayard Rakoze was having none of it. The big man's face reddened. "Well, I can't make folk do what I want, obviously, but I'm strongly advising them against doing any business with some mysterious somebody from outside our village. We've been here generations, and this is just wrong." Some more harrumphing, and he stomped back into his house and slammed the door.
"I get the feeling he don't like us," Claude mused. "You want I should kill him for you?"
"No." Not yet, Crevan thought to himself, but he didn't say anything else. Two riders had come in while they were occupied with the unhappy and easily offended Mayor. The riders, who had dismounted, were talking to the woodsman, whose girl still had not seen fit to show herself.
And Crevan knew them both. Finnella. And Cassick.
"Or maybe," Claude corrected himself as he also saw the two, "you want I should kill somebody else?"
"Now, now, Claude," Crevan answered in a quiet voice, "you know how Grandmere Marguerite frowns on intra-familial bloodshed. We're just here to … observe. No killing. Unless you can make sure it can't be traced back to you and me."
DM's Note: This photograph used under Creative Commons license.